Stench sickens kids and teachers at Kauai school
It took nearly an entire day and a visit by an HSTA official before the school was closed
WAIMEA, Kauai » A pungent odor, blamed on Kona winds and a weed-filled field, closed Waimea Canyon Elementary and Intermediate School yesterday.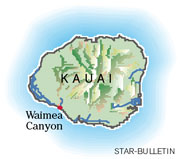 But that's only after a representative from the Hawaii State Teachers Association went to the west side of the campus and smelled the stench for himself.
Tom Perry, HSTA director for Kauai, applauded Principal Glenda Miyazaki's decision to close the school. But, he said, it took nearly the entire day Thursday, with teachers and students getting sick, before the decision was made.
Officials from the state Departments of Agriculture, Education and Health, and the Kauai Police and Fire departments examined the area at least twice this week and believe the culprit is the wild spider flower, or honohina iliohu.
The field abutting the west side of campus is owned by Kikiaola Land Co. and leased to Syngenta Seed Co. By yesterday afternoon the field had been plowed and cleared, but officials at Syngenta did not return a call for comment.
Perry said he received calls this week after about a dozen schoolkids went home sick Tuesday.
While winds changed direction and kept the smell away Wednesday, Kona winds were back Thursday, pushing the smell back onto campus.
"The teachers felt it was injuring them," Perry said. When he arrived, "within one minute I was feeling the effects of the smell."
The chemical stench made him dizzy and lightheaded, he added. Teachers nearest to the field reported the worst conditions.
After meeting Thursday with administration officials and state and federal workers, Perry said teachers told administrators and the Department of Education that they would not be returning to work yesterday if the conditions persisted.
"We felt we cannot take chances with the students and the teachers," Perry continued. Miyazaki "deserves commendation for taking that action and closing the school."
Only administrators and library staff, where air conditioning kept the smell at bay, came in to work yesterday, school officials said.
"Kona winds are junk," one frustrated official said.
The hope is that the clearing of the field, and the return of easterly tradewinds, will alleviate the problem for next week.
"On Monday I'll be there first thing in the morning," Perry added.