---
FAST FACTS HAWAII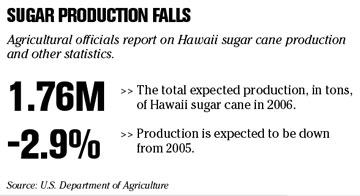 ---
NATION


Mortgage giants face tighter rules

WASHINGTON » The Treasury Department is tightening its process for approving the millions of dollars of mortgage-related debt issued by

Fannie Mae

and

Freddie Mac

, a change that could diminish the footprint of the two giants in the financial markets.

The changes could take effect as soon as January, a senior Treasury official said yesterday.

The two government-sponsored companies, the biggest buyers and guarantors of home mortgages in the country, have been roiled by accounting scandals and are under pressure from the Bush administration and Republican lawmakers who want their combined multitrillion-dollar holdings to be reduced.

The latest government move is seen as an attempt to bring the companies to the bargaining table over legislation that still could arise in Congress' lame-duck session.
Delta's CFO rejects US Airways
ATLANTA »
Delta Air Lines Inc.
is telling its creditors that it believes its standalone plan is "far superior" to US Airways' $8.7 billion offer to buy the company and create the nation's largest carrier, Chief Financial Officer Ed Bastian said Friday.
In an interview with the Associated Press, Bastian said he and Chief Executive Gerald Grinstein are telling creditors the company will review US Airways' bid disclosed Wednesday, but don't believe it's the right plan for Delta.
"Jerry and I are on the phone with our creditors literally on a daily basis," Bastian said. "What we've told the creditors is we will consider the offer but we still believe our offer is a far superior one."
Bastian also said the Atlanta-based airline will "fight to make certain" that the airline emerges from Chapter 11 in the first half of next year as a strong competitor and it believes its standalone plan will be the "winning proposal."
HCA completes $21.3 billion deal
NASHVILLE, Tenn. »
HCA Inc.
, the nation's No. 1 for-profit hospital chain, completed a $21.3 billion leveraged buyout to take the company private yesterday, just a day after shareholders voted overwhelmingly to approve the deal.
Nearly 73 percent of HCA's outstanding shares were voted in favor of the buyout. Shareholders will receive $51 for each share of common stock, 18 percent above the stock's closing price before the agreement was made public.
HCA common stock will cease trading on the New York Stock Exchange at market close yesterday. Shares rose 3 cents to close at $50.97 on the New York Stock Exchange.
The Nashville-based company is being purchased by current HCA management and Hercules Holding II LLC, a consortium of private investment funds including Bain Capital Partners LLC, Kohlberg Kravis Roberts & Co. and Merrill Lynch Global Private Equity.
WORLD


M&A deals total $3.37 trillion

LONDON » Global merger and acquisition activity has hit new heights with a massive $3.37 trillion in total deal value so far this year, according to data published late yesterday by

Dealogic

.

Volume is being driven by the private equity firms, which have clocked up some $563.2 billion in deal value, or 17 percent of all activity in the year to date.

This compares with $353.6 billion, or 12 percent of total volume, over the same period last year.

The number of deals has also increased in the year to date to 2,262 from 2,420 last year.

With the large buyout shops looking to offload ever-increasing funds -- Blackstone Group, Texas Pacific Group and Carlyle Group are all targeting around $15 billion or more for their latest funds -- no public company seems too big to swallow.




---
BUSINESS PULSE