WEEKEND
Bonding through the years
Craig's the latest 007 agent licensed to kill in moviedom's longest-running franchise
Would you buy Bonds from this man?
Daniel Craig is just the latest incarnation of the longest-running franchise movie hero of all time, that is, if you discount the sporadic outbreaks of Tarzan and Zorro. "Bond" is certainly the most financially successful film series that rests on the shoulders of a single man.
Just Call Them James
Numerous actors have played 007 through the years. They include:

Daniel Craig: The latest actor to join the 007 franchise. Craig plays a macho, working-class version of James Bond.

Barry Nelson: The first James Bond on screen, and the only American to play the secret agent.

Sean Connery: Considered by many to be the definitive James Bond, he starred in six Bond films.

Pierce Brosnan: The actor starred as 007 in "The World is Not Enough" (1999) and "Die Another Day" (2002).
That's a lot of baggage for Craig, a journeyman British actor primarily known on this side of the pond for his intense supporting roles in dozens of films. When Craig was cast as 007, howls of outrage arose from hard-core Bondheads. He's blond! He's working-class! He ain't suave and debonair!
In fact, in the new film, a bartender asks Bond if he wants his martini shaken or stirred. Craig/Bond snorts, "Do I look like a give a damn?"
This isn't your father's James Bond. It's not your Sean Connery/JFK/Cold War/Q-gadget/Miss Moneypenny James Bond, nor is it your impossibly arch and smirking George Lazenby/Roger Moore/Timothy Dalton/Pierce Brosnan James Bond. This is more like your Barry Nelson edition of Jimmy Bond.
Huh?
Here's your pop-history lesson: From the first theatrical version of James Bond to the one that opens today, except for a couple of fluky spinoffs, all the films have been produced by the Brocolli family, Cubby and Barbara, which is pretty amazing on its own, but they've realized that the old horse is losing its legs. A reinvention was in order, one that gets right back to the roots of the character, as if all the other films have ceased to exist. It's a whole new Bondian universe. Ground Zero, Square One, Go.
Former Royal Navy spymaster Ian Fleming began writing a series of novels in the early '50s about a former Royal Navy master spy, whom he branded James Bond because it was the blandest name he could come up with. Bond was tough, suave and knowledgeable, and moved easily through all classes of society, a fairly democratic idea in Britain at the time, a country reeling with postwar depression and a lost empire. Fleming based many of Bond's early novels on his own World War II experiences, updated to make the Commies the enemy, and thought the books would appeal only to his small circle of MI5/MI6 club members.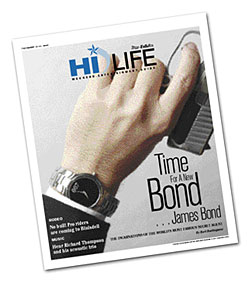 The first book, "Casino Royale," was a modest success and Fleming was paid $1,000 by CBS so it could be adapted to their "Climax!" live-television anthology. The plot was boiled down to one hour. American actor Barry Nelson, a two-fisted kind of actor, was paired up with Peter Lorre as the villain, Le Chiffre. ("Climax!" was known for hard-boiled adventure. In its version of Raymond Chandler's "The Long Goodbye," Peter Lorre, playing the villain again, was shot and killed, and then forgot he was dead and got up and walked out of the scene before it was finished. Oops.)
The TV broadcast was successful enough that CBS had Fleming write up a bunch of short scripts for a James Bond TV series. It never gelled, and Fleming recycled these as short stories in the "For Your Eyes Only" Bond book.
The spaghetti really hit the fan when President Kennedy let it slip that "From Russia with Love" was one his favorite books (a similar buzz was created when President Reagan plumped for "The Hunt for Red October") and at about the same time, Brocolli cast Sean Connery in the first "real" Bond adventure, "Dr. No." JFK lit the fuse, but Connery was a sensation; brooding, cruel, flip and physical, and to this day, there is the definitive Connery Bond and all those elegant, stuffed-shirt pretenders who followed mincingly in his footsteps.
A 1960s unofficial spoof of "Casino Royale" is based on the earlier TV edition. The new movie is the first that goes back to the original source.
The new movie deliberately cast someone who has Connery's sense of dangerous abandon. Sure, the double-O means he's licensed to kill, but only Connery seemed like he enjoyed it. Buzz on the new film is that the script -- tinkered with by miracle worker Paul Haggis, who also wrote "Crash," "Million Dollar Baby" and the adaptation of "Flags of Our Fathers" -- focuses on Bond's introduction into a world of killing without responsibility, and the toll it takes on his psyche.
Yeah, it's not your father's James Bond. But it sounds like a Bond for today, a free agent in a world with curdled morality, sanctioned torture and enemies of the state who vanish mysteriously.