| | |
| --- | --- |
| | Island Mele |
---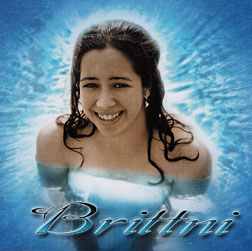 Brittni
Brittni Paiva
(Talmidim Production TPCD10-806)
Brittni Paiva takes another significant step forward as a recording artist and record producer with her third album. Her productive affiliation with veteran studio producer Wendell Ching is evident in the judicious use of guest musicians -- Ching among them -- on a broad range of material. Four original instrumentals attest to her development as a composer. Successful interpretations of melodies by Cole Porter, Johann Pachelbel, Carlos Santana and Helen Lindsey Parker display her imagination as an arranger and musician.
Violinist Ryan Hiroaki Tsukamoto adds rich melodic textures as Paiva approaches Pachelbel's "Canon in D" as a duet between violin and ukulele. Paiva's reworking of Santana's early instrumental hit, "Samba Pa Ti," featuring Dan Del Negro on keyboards, is another good example of what she's capable of as she plays the guitar part with four strings instead of six.
Paiva acknowledges her cosmopolitan heritage with a haunting arrangement of "Kadosh" that she sings in Hawaiian, Portuguese, Danish and Japanese as well as in the original Hebrew.
---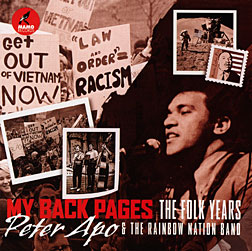 My Back Pages: The Folk Years
Peter Apo & The Rainbow Nation Band
(Mamo MRCD-007)
Peter Apo is remembered as the producer of "Hawaiian Nation: A Call for Hawaiian Sovereignty," an album of Hawaiian nationalist songs and spoken-word performances that he released while still prominent within the Democratic Party establishment. With this album, Apo goes back to the 1960s, when he was a member of the Travelers 3, that played folk hits and protest songs in clubs across the mainland. Although the group recorded several albums, the recordings here are of contemporary vintage -- Gordon Freitas, David Tucciarone, Pete Moe and Dave Toma are among members of the Rainbow Nation Band who back him here.
Apo treats each selection with respect, and the arrangements are well thought out, but the album is likely to appeal almost exclusively to fans of his previous work -- his 1989 Hoku Award-winning "Apo & Beazley" album with Del Beazley, and subsequent solo projects. The original hit versions of most of the songs here are still well-known and available -- "Blowin' in the Wind," "Early Morning Rain" and "Elusive Butterfly" to name three -- and that means little likely interest in these earnest remakes.
---

He Touched Me: Pat Rocco Sings Songs For Gay Lovers
Pat Rocco
(Cabin)
Love is an emotion not limited to people of a particular sexual orientation. With that in mind, Pat Rocco recorded and released this album as a companion to his "She Touched Me: Pat Rocco Sings Songs for Lovers." This one is equally ambitious, a self-produced collection of 35 romantic pop standards, but includes several that express the singer's love for a man.
Rocco opens with "Can't Help Lovin' That Man of Mine," and continues with such romantic pop classics as "The Second Time Around," "The Man That I Love" and "Happiness is a Thing Called Joe." Rocco also includes several of the gender-neutral songs from "She Touched Me," and in doing so makes the point that love is a universal emotion.
As with its heterosexual counterpart, the album art is primitive and the packaging lacks such basic components as composers' credits and publishers' affiliations, but Rocco and his musicians are better than the album cover suggests. Pop fans open to the "songs for gay lovers" concept may enjoy this one.
John Berger
, who has covered the local entertainment scene since 1972, writes reviews of recordings produced by Hawaii artists. See the Star-Bulletin's Today section on Fridays for the latest reviews. Reach John Berger at
jberger@starbulletin.com
.