Indigo celebrates 12 years with special 'Fresh' party
WITH ALL the buzz about recent downtown Honolulu additions
Bar 35
and
Du Vin
, it's easy to overlook the staying power of
Dave Stewart's
original endeavor in the neighborhood.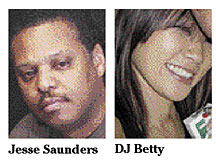 The spotlight will swing back to shine on Indigo this weekend, as the Nuuanu Avenue restaurant celebrates its 12th anniversary on Friday with a special edition of its weekly "Get Fresh!" party. Doors open at 9 p.m. for a VIP-only open bar, followed by a special return performance by house music pioneer DJ Jesse Saunders.
Indigo will also bring back a number of local DJs who have helped to keep things cracking on the late-night tip. DJs Mark, Shawn G, Kavet the Catalyst, Ms. Angel, Jahson the 45 Revolver and the Nocturnal Sound Krew will be among those taking turns on the decks.
If you go, be sure to congratulate DJs Sovern-T and G-Spot for making Fridays at the restaurant a quality party for such a long time. You just might be rewarded with one of 100 free drink tickets they'll be giving out that night ...
YOU'LL HAVE another chance to check out Sovern-T and G-Spot in action this weekend, when they help open for Los Angeles' DJ Thee-O on Saturday.
Representing Biohazard and Go Ventures, Thee-O is in town for "Perpetual Groove," a one-time event going down at Galaxy Nightclub. DJs Betty, PSI, Quicksilva and Big Daddy Dave will also be on hand to spin.
Two things to keep in mind about Galaxy: It's an all-ages club, and everyone old enough to drink has to BYOB. Plan accordingly ...
SKA FANS will also be heading downtown on Friday, as Chris Murray headlines "Skafest '06" at Detox Lounge. He'll be joined by local bands Pimpbot, Blacksquare, Golfcart Rebellion and The Ex-Superheroes.
This one is a Unity Crayons event, which means it's all-ages. Cover is $7; doors open at 8 p.m. ...
HAPPY BIRTHDAY to Jarrod Bonser, who celebrated by performing with his bandmates from Neken at the O Lounge on Wednesday ... Butigroove has opened up at its new location on the corner of Piikoi and Kapiolani, and is offering a limited-edition Colt Brennan T-shirt to help drum up support for the University of Hawaii's potential Heisman Trophy candidate. It's got his number on the front, and "Whip Some Buti!" on the back ... And it looks like Paul Wall is heading to Honolulu. He's reportedly signed to perform Dec. 22 at Hawaiian Waters Adventure Park, thanks to Cinnamon Red Entertainment and Starchild ...
MORE PICKS: Carnaval Las Palmas is trying to kick-start its weekend offerings at Restaurant Row. Hip-Hop/Reggaton duo Charlie Y Charlie hold it down on Fridays with DJ Don Armando, while 808Promo.com presents "Suave Noche" on Saturdays. Both parties are 18-and-over ... Yoshitoshi Records' Luke Fair flies in from Toronto for a guest set during "Pacific Standard" at NextDoor on Friday ... Comedian Lewis Black returns for another gig at the Blaisdell Concert Hall on Tuesday ... And local promoters Kurious Productions and B-Tyte Productions team up for a special collaboration in honor of the Thanksgiving holiday. "Give Thanks" jumps off Wednesday night for the 21-and-over crowd, with $3 Heineken and Crown Royal on special all night long ...
A REMINDER: I'm taking Tuesdays off for the next month or so, which means this column will only appear in HiLife on Thursdays (for home-delivery subscribers) and Fridays (street sales). My Tuesday column will return Dec. 26 ...