---
FAST FACTS HAWAII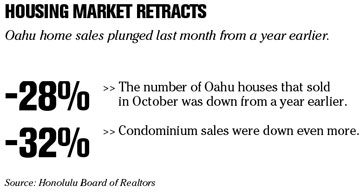 ---
HAWAII
Final work starts on industrial park project in Waipahu
Avalon Development Co.
said yesterday it has begun construction of the final phase of its Waipahu industrial park project, Sugar Mill Center at Mill Town.
The project, located next to the landmark Waipahu smokestack, will include a 15-acre business and industrial park, of which two acres are slated for a 30,000-square-foot retail plaza.
Avalon plans to sell off the remaining land as fee simple lots ranging from 0.5 to 2.5 acres. The lots are zoned industrial, with a maximum height of 60 feet.
The lots are expected to be priced between $55 to $57 per square foot. Royal Contracting is the general contractor, while Design Partners Inc. is the architect.
[HAWAII INC.]
NEW JOBS
» The
Gas Co.
has hired
George Aoki
as vice president of general counsel and secretary. He began his career with the company in 1979 and previously served with the law firm
Conklin and Schneider
, as well as deputy corporation counsel for the city.
» Goodsill Anderson Quinn & Stifel has hired Damon Schmidt as an associate. He focuses on the fields of public utilities/telecommunications and environmental law. He has interned at Morgan Stanley in Santa Monica, Calif., and held legal externships with the U.S. District Court of Hawaii and the Aram International Law Firm in Seoul.
» Heide & Cook has hired Arsena Kailihiwa as division sales manager for its Air Reps Hawaii subsidiary. She will be responsible for increasing awareness of Air Reps products by introducing them to new industries. Kailihiwa previously served as an account executive for Fidelity National Information Services.
» UHA, formerly known as the University Health Alliance, has hired Dr. Richard Ridao as chief medical officer. He has worked for several major hospitals around Oahu, and was a director of St. Francis Healthcare Systems and chief of staff at St. Francis-West. He also has kept a private practice.
» Y. Hata & Co. has hired Fred Honda as director of hospitality industry development. He previously served as general manager of the Halekulani Hotel, and has an extensive background that covers hotels and resorts in Hawaii and San Francisco, country club operations, and involvement with wine and food groups. Isaac Tamada has been hired as president of the company's Hans Weiler Foods division. Hans Weiler will become president emeritus to guide Tamada in his new post. Tamada is a professional on Food Network shows who has won many awards. He has previously served as executive pastry chef at Disney's Polynesian Resort in Florida.
PROMOTIONS
»
Durrant Media Five
has promoted
Gordon S. Wood
to principal. He holds responsibility for projects with more than $2 million in aggregate fees, including design and development of a new condominium tower in the Kakaako area. Wood joined the firm in 2005. He is a registered architect and accredited for leadership in energy and environmental design through the U.S. Green Building Council.
» The Shidler Group has promoted Anna Palla to general manager of the Davies Pacific Center. She previously managed the Pan Am Building and the Pacific Business News Building. Before joining the company, she managed retail, office and industrial properties for Colliers Monroe Friedlander.
» Shriners Hospital for Children Honolulu has promoted Dr. Craig Ono to assistant chief of staff. He has been a pediatric orthopedic surgeon at the hospital since 1992, and was chief of pediatric orthopedic surgery at Tripler Army Medical Center from 1992 to 1996. He currently serves as commander of the 1984th U.S. Army Hospital at Fort Shafter.
» Central Pacific Bank has promoted Sherri M. Donlin to vice president and direct marketing manager from assistant vice president and business product manager. She is a 30-year veteran of the banking industry. Stephanie T. Katayama has been promoted to vice president, trust regulatory and reporting officer. She will oversee regulatory and compliance reporting requirements for the bank's trust division. She has more than 14 years of banking, regulatory and compliance experience. Gwen Y. Fukuyama has been promoted to assistant vice president and personal trust officer. She will oversee administration of personal trust, probate and custody accounts. She has more than 25 years experience, specializing in trusts and investments. Jorge A. Tirona has been promoted to assistant vice president and commercial banking officer II of the bank's new Maui Financial Center in Kahului. He will be responsible for managing a growing portfolio of commercial clients on the Valley Isle. He previously served as assistant vice president and head of cash management/branch credit administration at Asiatrust Development Bank in the Philippines. Michael N. Nii Jr. has been hired as a commercial banking officer. He will manage and develop the bank's Kauai portfolio of commercial clients. Nii previously served concurrently as a loan officer at U.S. Capital Home Loans and an accountant at Dragon Ridge Country Club in Nevada.
---
NATION / WORLD
Oil plunges to $56.26 a barrel
WASHINGTON » The price of oil sank by more than $2 a barrel yesterday, settling at its lowest level in a year as traders focused on the bearish aspects of conflicting market trends. OPEC is cutting output, but the U.S. economy is slowing; winter is near, but the country has an abundance of home heating fuels.
These mixed signals help explain why crude futures have settled in a range roughly between $57 and $61 since the beginning of October.
Even as oil prices fell through the low end of that range yesterday, many analysts remain bullish in their outlooks, citing concerns about instability in Nigeria and Iraq, a recent drop in U.S. refinery output and trading patterns that suggest the market is preparing for a late-year upswing.
Light sweet crude for December delivery fell $2.50 to settle at $56.26 a barrel on the New York Mercantile Exchange -- the lowest settlement since Nov. 18, 2005.
Regulators are investigating Dell
Shares of
Dell Inc.
fell after the world's second-largest personal computer maker delayed reporting results and said federal regulators stepped up an investigation of its accounting.
The stock fell 2.5 percent in Nasdaq Stock Market composite trading. Dell, originally scheduled to report third-quarter results yesterday at the same time as rival Hewlett-Packard Co., said yesterday the Securities and Exchange Commission turned a 15-month-old accounting review into a formal investigation.
The delay puts more pressure on Chief Executive Officer Kevin Rollins as he works to revive sales and profit at Round Rock, Texas-based Dell. The company lost the title of world's top PC maker to Hewlett-Packard last quarter after alienating customers with poor service.
HP profits undaunted by scandal
SAN FRANCISCO » In a period punctuated by distracting revelations of company spying,
Hewlett-Packard
nevertheless sharply increased its revenue and made more profit from the revenue.
Net income for its fourth quarter, which ended Oct. 31, rose to $1.7 billion, or 60 cents a share, from $416 million, or 14 cents a share, a year ago, which included $1.57 billion in restructuring charges. After adjusting for the manner in which the charges are accounted for, net income increased 27 percent. Revenue increased 7 percent, to $24.6 billion.
With $91.7 billion in revenue for the year, a 6 percent increase over 2005, the company overtook IBM as the world's largest technology company. (The consensus of analysts puts IBM's 2006 revenue at $90.72 billion.)
FTC head predicts gouging law
WASHINGTON » The head of the Federal Trade Commission predicted yesterday that Congress would pass a gasoline price-gouging law despite her warnings that the country doesn't need one and it might cause fuel shortages.
FTC Chairwoman Deborah Platt Majoras said she has warned Congress publicly and privately about the dangers of such a law.
"We looked vary carefully but didn't see any new legislation needed to protect consumers," Majoras said at an antitrust conference yesterday. "Will new legislation be passed? I think we will see a price-gouging statute pass, perhaps at the end of this (incoming) Congress."
---
BUSINESS PULSE