| | |
| --- | --- |
| | Newswatch |
---
WAIKIKI GETS MORE SAND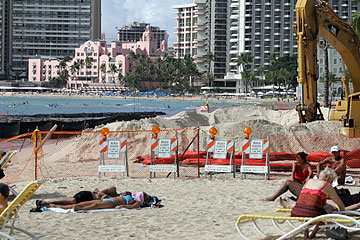 Land board to meet on lay gill net rules
The state Board of Land and Natural Resources will consider new rules for lay gill net use in Hawaiian waters at its 9 a.m. meeting Friday.
While the proposals aren't strong enough for some conservationists, others who use the fishing method find them too strict.
The Department of Land and Natural Resources is proposing that lay gill nets:
» Be labeled by owner and registered with the state.
» Be prohibited around Maui and portions of Oahu.
» Be seizable by DLNR enforcement officers when used illegally.
» Be checked every half-hour and not left in place longer than four hours.
» Not be used at night.
Lab school building delivery to slow traffic
One lane of Metcalf Street will be closed today and tomorrow as equipment and replacement buildings are expected for delivery to the University of Hawaii Lab School in Manoa.
On June 13, fire engulfed a 67-year-old wooden school building that housed the school's music, drama and physical education programs.
Traffic will be contraflowed on Metcalf Street from 8 a.m. to 4 p.m. as Hawaii Modular Space Inc. delivers four replacement buildings and equipment. Each building will arrive in two pieces, and installation is expected to be completed by Dec. 19, according to spokeswoman Emmanuelle Sailor.
Moanalua fun fair Friday
Moanalua Elementary School is holding its 33rd annual Fun Fair from 2 to 8 p.m. Friday on the school grounds.
All proceeds will go toward supporting the school's extracurricular activities and enrichment programs. Food, games, rides, plants, produce, crafts and a cake walk (like musical chairs) will be offered. For more information, call chairperson Sue Yamaguchi at 372-3644.
Fire department wins safety education grant
The Honolulu Fire Department was awarded $115,000 yesterday to purchase education materials and Honolulu's first fire safety house to educate children about fires and other emergencies.
The grant was provided by the Fireman's Fund Insurance Co. and several local insurance agencies: Monarch Insurance Services, King & Neel Inc., Insurance Associates Inc., Noguchi & Associates, Servco Insurance Services Corp., Insurance Factors and Finance Insurance, Ltd.
The fire safety house is designed to fill a room with simulated smoke and a heated door. The mobile unit also has a vibration system to simulate an earthquake.
5 waiters indicted in thefts of $16,000
Five waiters who worked at Alan Wong's Pineapple Room restaurant were indicted yesterday on charges of stealing more than $16,000 over a two-month period.
Circuit Judge Derrick Chan ordered that bench warrants be issued yesterday for Aaron T. Matsuura, Jonathan J. Cloutier, Jeffrey K. Choi, Moira L. Camara and Stephen J. Brown. Each was indicted on a second-degree theft charge and first-degree computer fraud charge.
According to prosecutors, the waiters allegedly voided customer orders or transferred them to other waiters so that it would not show up on their individual sales report, then pocketed the cash.
They allegedly used the manager's access code without permission to operate the restaurant's computer system to void the orders.
Computer reports indicate that from Nov. 1, 2004, to Dec. 31, 2004, Matsuura stole about $2,600; Cloutier stole $6,000; Choi, $3,000; Camara, $3,400; and Brown, more than $1,300. Bail for each defendant was set at $11,000.
The Pineapple Room, on the third floor of Macy's at Ala Moana Center, is one of Wong's two restaurants on Oahu. Wong is out of town and could not be reached for comment.
Strip club debts lead to alleged embezzling
A bookkeeper embezzled about $374,000 from his former employer to pay off credit-card debt he had racked up by visiting strip bars, prosecutors say.
Ronald Ching was indicted yesterday on a first-degree theft charge for allegedly stealing from ABC Music Inc. between October 2000 and May 2004. He could not be reached for comment.
Ching allegedly had nine personal credit cards in his name and was spending massive amounts at strip clubs, Deputy Prosecutor Vickie Kapp said.
He allegedly used 60 separate company checks to pay his credit-card bills. He was able to conceal the payments by listing them in the company's books as payments to Yamaha Music Co., prosecutors said. The owner of ABC Music could not be reached for comment.
---
SHINING STARS
---
Labor group aids children's arthritis fight
The
Hawaii Building Industry Labor Association
was honored for its continued support of the Arthritis Foundation's children's programs and its general mission. Since 2002, the association has provided $10,000 a year to enable the foundation to partner with Shriners Hospital of Hono- lulu to provide juvenile and family arthritis camps and conferences.
---
Eric Enos, executive director and co-founder of Ka'ala Farms Inc., was honored as the "Planner Who Has Made a Difference" by the Department of Urban and Regional Planning at the University of Hawaii-Manoa. A graduate of the Kamehameha Schools and the UH, Enos has been a leading proponent of sustainability since the 1970s.
Ka'ala Farms engages native Hawaiians and others to learn about the history of land, farming, conservation, and Hawaiian customs and cultural practices.
---
The Hawaii Pacific Gerontological Society honored retired Rep. Dennis Arakaki with its Lifetime Achievement Award. Arakaki represented the Kalihi Valley, Kapalama Heights and Moanalua districts for 20 years.
He was a tireless advocate for the elderly, children, poor, disabled and mentally ill, and was the chairman of the House Health Committee, a release said.
---
"Shining Stars" runs Monday through Thursday.
| | |
| --- | --- |
| | Police, Fire, Courts |
---
HONOLULU
Man accused of raping party acquaintance
Police arrested a 27-year-old man who allegedly raped a woman just after meeting her.
Police said a 25-year-old woman told them that she had just met the man at a cookout. She said the man sexually assaulted her about 3 p.m. Monday in Salt Lake.
Police arrested the man for investigation of first-degree sexual assault.
Suspect, 44, arrested in theft at 2 shops
Police arrested a 44-year-old man who allegedly robbed a shopkeeper and stole from another in Kakaako.
Police said that about 8:40 a.m. Saturday, a 66-year-old woman confronted a man she found rummaging through a cabinet behind the front counter of her Kona Street business.
She tried to detain him by grabbing hold of his backpack, but he assaulted her and used physical force to get away, police said.
The same man then broke into a business on Ward Avenue and stole items from an office, police said. The shopkeeper, a 33-year-old man, saw the suspect and chased him on Ward Avenue, police said.
An officer noticed the commotion and intervened, catching the suspect.
Both shopkeepers identified the man as the culprit, police said.
The man was then arrested for investigation of second- degree robbery and second- degree burglary.
Man charged for threats and assault
Police charged Clayborne Conley, 39, with fourth-degree criminal property damage, third-degree assault, and second degree terroristic threatening following the alleged assault of a 45-year-old woman in Honolulu.
The woman told police Saturday that Conley had restrained her and assaulted her while threatening to kill her. Bail was set at $5,000.
WINDWARD OAHU
Teen arrested riding stolen mo-ped
Police arrested a 16-year-old boy who was allegedly seen riding a mo-ped that had been reported stolen from a Kailua home.
Police said a 42-year-old man called them after he saw the boy riding the mo-ped along Uluoa Street about 6:30 p.m. Monday.
The man said the mo-ped had been stolen from the garage of a friend.
Police arrested the boy for investigation of auto theft and then released him pending investigation.
Man held in alleged attacks in September
Police arrested a 21-year-old man who allegedly attacked a 50-year-old woman and damaged a car in September.
Police said the man assaulted the woman about 12:30 p.m. Sept. 16. A 23-year-old man who knows the suspect went to help the woman and was also assaulted by the suspect, police said.
The suspect then caused about $1,500 damage to the other man's car, police said.
Police found the suspect Monday and arrested him for investigation of third-degree assault and criminal property damage.
LEEWARD OAHU
2 men arrested in Waianae assaults
Police arrested two men, 27 and 23, in Waianae for allegedly assaulting two younger men with a solid object and a hammer.
Police said that on Saturday night, the older man hit a 19-year-old man in the back of the head with a solid object. Then the 23-year-old man allegedly grabbed a hammer and made swinging motions toward an 18-year-old man.
Police arrested them on suspicion of second-degree assault and second-degree attempted assault.
NEIGHBOR ISLANDS
Male victim in Kauai car crash identified
LIHUE » Kauai police identified the man who died Friday in a head-on, two-car crash on Rice Street near the Kauai Marriott Resort and Beach Club.
Lee Villatora, 33, a passenger in a Geo Prizm, died at Wilcox Hospital. The driver, Douglas Moises, 52, of Lihue, was taken to the Queen's Medical Center.
In the other vehicle, a Ford pickup, Maria Bartziokas, 58, a Canadian citizen, was in stable condition yesterday after undergoing surgery at Wilcox Hospital. The driver of the truck, Robert Galchutt, 31, of Kapaa, was treated and released.
Villatora is the 13th traffic fatality on Kauai this year.