---
FAST FACTS HAWAII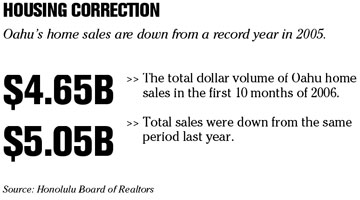 ---
On assignment
Erika Engle is on assignment. TheBuzz will return tomorrow.
NATION
Comair attendants approve wage cuts
CINCINNATI » Comair took another major step in its plan for emerging from bankruptcy protection when flight attendants approved $7.9 million in wage cuts and other concessions. Now the Delta subsidiary is focusing on getting concessions from its pilots -- the last holdout among its unions.
The four-year contract agreement Comair flight attendants ratified yesterday includes a 7.5 percent pay cut and job protection if Comair was sold by Delta Air Lines Inc. before emerging from bankruptcy protection. Both sides negotiated the deal after a bankruptcy judge in New York gave Comair permission to impose concessions.
"Job security was a No. 1 issue for us in reaching the agreement," said Connie Slayback, president of Local 513 of the International Brotherhood of Teamsters, which represents Comair's 970 flight attendants.
Housing slump hurting Home Depot
ATLANTA » Home Depot doesn't yet see light at the end of the tunnel. It said the slumping housing market that cut into its third-quarter profit is expected to continue into 2007, forcing the nation's largest home improvement chain to consider altering its long-term growth projections.
The Home Depot Inc. reported a 3.1 percent drop yesterday in profit for the quarter ending Oct. 29. It lowered its earnings per share growth guidance for the year.
System detects liquid explosives
A Canadian company says it has developed a system that can automatically detect multiple kinds of security threats passing through airport X-ray machines, from weapons and their components to liquid explosives.
Using optical-recognition technology explored for Cold War weapons systems, Optosecurity Inc. has built a device that attaches to X-ray machines and identifies guns, knives and weapons components, to bolster the work of human screeners. Tests in airports have been planned for 2007.
Now the Quebec-based company says it has added a new capability to the device: the ability to sniff out liquid explosives. Using the same X-rays that already probe baggage, Optosecurity's system measures the physical properties of liquids to determine what they are.
Other companies have machines that can detect liquid explosives. But cost and logistical concerns -- including fears that the scans would unacceptably slow screening -- have kept the gear out of U.S. airports.
PlayStation 3 can't play old games
TOKYO » Sony's new PlayStation 3 can't play some of the games designed for previous generations of the popular console, the latest misstep for the stumbling electronics company as it faces off in a crucial, three-way war with Nintendo and Microsoft.
Sony Corp., which has fallen behind in key products like flat-panel TVs and digital music players, badly needs a best-seller in the PS3. The console went on sale here to hoards of eager fans over the weekend, ahead of its U.S. release on Friday.
Yesterday, the company acknowledged the console won't run some of the 8,000 titles designed for previous PlayStations, even though the PlayStation 3 was billed as being fully compatible with older-generation games.
---
BUSINESS PULSE