---
FAST FACTS HAWAII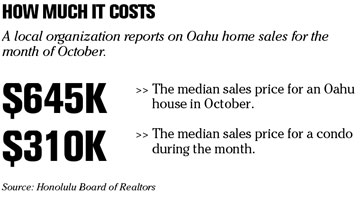 ---
HAWAII
Keola Lai to hold condo lottery soon
A&B Properties Inc.
is preparing to accept applications for affordable housing units in its 352-unit Keola Lai condominium complex under construction in Kakaako.
Buyers will be selected by lottery for 14 one-bedroom units, starting at $275,000, and 49 two-bedroom units priced from $340,000. Both types of units come with one parking stall.
Prospective buyers must have income of $84,688 or less for singles and $94,850 or less for families, under the state Hawaii Community Development Authority's guidelines for the units.
Applications, available at www.keolalai.com, must be submitted in person at the project's sales office at 676 Queen St. from Nov. 26 through Dec. 10. The lottery to select the buyers will be Dec. 19.
Application filed for Molokai hotel
Molokai Properties Ltd.
has filed for a special management area application as part of its plans to reopen the Kaluakoi Hotel on Molokai.
The company, which bought Kaluakoi after its closure in late 2001, announced in May it wanted to reopen the 152-room resort as part of its plans to build an upscale residential subdivision on 500 acres of Molokai's Laau Point.
The company plans to use lot sales at Laau Point to pay for the $30 million renovation project, which it says will create more than 100 jobs on the island.
Molokai Properties said it hopes to have a hearing before the Molokai Planning Commission on its application by the end of the first quarter in 2007.
"Once we have approval from the Planning Commission, we will be able to start detailed work on the working drawings for the hotel, a process expected to take about four months," said Peter Nicholas, president of Molokai Properties.
NATION
$300B plan aims to insure all kids
WASHINGTON » Health insurance companies proposed a $300 billion plan yesterday aimed at getting coverage for all uninsured children in three years and for most adults within 10.
The plan includes tax breaks for the working poor and increased spending by the government for Medicaid and the State Children's Health Insurance Program.
"This bold program would expand coverage to tens of millions within a framework that is fiscally sound and promotes individual responsibility," said J. Grover Thomas Jr., board chairman of America's Health Insurance Plans.
The largest of the tax breaks would go for universal health accounts. Individuals could set aside up to $2,000 a year and families up to $4,000 and use the money to pay for any type of health insurance, not just plans that require patients to pay significant upfront costs.
Intel now offers 'quad-core' chips
SAN JOSE, Calif. »
Intel Corp.
, the world's largest computer chip maker, today launched a family of chips with four computing engines inside a single microprocessor.
The "quad-core" processors, which boast improved performance over models with just one or two processing cores, could help the company win back market share lost to smaller rival Advanced Micro Devices Inc., analysts said. Processors with multiple cores can handle more complex jobs at once.
Intel rolled out four processors for servers under the Xeon 5300 branding, and another processor under the Core 2 Extreme series aimed at hardcore computer gamers, programmers and other people with heavy-duty computing needs.
Hollywood is a major polluter, study finds
LOS ANGELES » Special effects explosions, idling vehicles, teams of workers building monumental sets -- all of it contributes to Hollywood's newly discovered role as an air polluter.
The film and TV industry and associated activities make a larger contribution to air pollution in the five-county Los Angeles region than almost all five other sectors researched, according to a two-year study released today by the University of California, Los Angeles.
Although Hollywood seems environmentally conscious thanks to celebrities who lend their names to various causes, the industry created more pollution than individually produced by aerospace manufacturing, apparel, hotels and semiconductor manufacturing, the study found.
---
BUSINESS PULSE