| | |
| --- | --- |
| | Newswatch |
---
OVER THERE

Isle Marines and soldiers in Iraq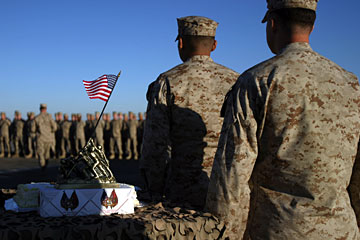 ---
Panelists to discuss science communication
Jim Gosz, senior program director of the National Science Foundation's Experimental Program to Stimulate Competitive Research, will be the key speaker at a conference tomorrow at the Radisson Waikiki Prince Kuhio Hotel.
"Let's Talk Story: Innovation Communication" is the theme of the third annual IMUA NSF Hawaii EPSCoR statewide conference.
Gosz, Hawaii's program officer for EPSCoR, will speak at a luncheon starting at 11:30 p.m.
Carolyn Tanaka, University of Hawaii associate vice president, external affairs and university relations, will moderate a panel discussion from 1 to 3:15 p.m.
Panelists will discuss communications using innovative techniques and understandable language to more fully involve the community in the excitement of cutting-edge scientific discovery.
The conference is free and open to the public. Register at www.epscor.hawaii.edu.
Air conditioner repairs to close Liliha library
Liliha Public Library will close from next Monday through Dec. 8 for air conditioner upgrades.
The library's book drop will remain open, but customers should return CDs, DVDs or videos at either the Hawaii State Library or Kalihi-Palama Public Library. Customers can still browse the Hawaii State Public Library System Web site for book titles, eBooks, digital audio books and other online databases. The address is www.librarieshawaii.org.
Groups seek tax-return help for those in need
The Internal Revenue Service, AARP and the Hawaii Asset Building Coalition are asking for volunteers to provide free assistance in filing tax returns for seniors, the disabled and others.
The AARP will focus on senior citizens, and the Building Coalition, on lower income individuals and families. Volunteers will be given free training on how to prepare basic federal and state income tax returns and, in some cases, how to file them electronically. All materials and training will be provided at no cost.
Last year, more than 200 volunteers helped more than 5,000 taxpayers prepare some 10,000 federal and state tax returns, according to a release. Bilingual volunteers are needed in particular. Organizations, educational institutions, religious organizations and social groups can also participate or host a site. Volunteer training starts soon. For information, call the AARP Tax-Aide at 955-5776 and or the Hawaii Asset Building Coalition at 539-1503.
SHINING STARS


AARP Hawaii honors volunteers for work on issues vital to seniors and retirees Laura Manis

, longtime volunteer and senior advocate, has received the 2006 Andrus Award for Community Service from

AARP Hawaii

.

It is the most prestigious award given to an AARP volunteer and is named for the organization's founder, Dr. Ethel Percy Andrus. Manis was recognized for "giving voice" to senior issues at the Legislature. She was project coordinator last year for the first Silver Legislature convened in Hawaii in more than 10 years. One result was the formation of a bipartisan Kupuna Caucus, which supported more than a dozen bills affecting seniors that were signed into law this year.

Waianae resident Ruby Silva also was honored by AARP Hawaii as the first recipient of the Sustained Excellence Award for Volunteerism.

Other volunteers receiving awards were Patrick Stanley, Mary Protheroe and Tony Fisher, Advocate Award; Charlotte Peltz and Tessie Lilker, Community Outreach Award; Wilbert and Helen Ho and Jere Pennell, Media Spokesperson Award; Charlotte Lum, Shining New Star Award; and Liza Kwung, Next Generation Award.

AARP's Waianae Chapter received the Chapter Challenge Above and Beyond Award.
| | |
| --- | --- |
| | Police, Fire, Courts |
---
NEIGHBOR ISLANDS


Man dies in head-on crash on Kauai

One man died and another was flown to the Queen's Medical Center on Friday after a head-on collision in Lihue that involved two vehicles.

A 33-year-old Lihue man who was a passenger in a Geo Prizm died at the scene. The driver of the Prizm was taken by ambulance to Wilcox Hospital and then flown to Oahu. Police did not known the driver's condition.

The driver of the other vehicle involved in the accident, a Ford pickup, was treated and released. A female passenger in the truck sustained serious injuries and underwent surgery at Wilcox. She was in stable condition as of last night.

The accident happened at about 5:50 p.m. on Rice Street between the entrance to the Kauai Marriott Resort and Beach Club and the Makoi Street junction.
Alleged serial robber charged on Big Island
Big Island police have arrested and charged a 38-year-old Kailua-Kona man suspected of committing a series of robberies in East Hawaii.
Robert Lee Willis was arrested Friday without incident by Puna Patrol officers at a home in the Hawaiian Paradise Park subdivision. He was charged with three counts of robbery in the second degree, a Class B felony. Bail was set at $150,000. Willis remains in custody at the Hawaii Police Department's East Hawaii Detention Center pending his initial appearance in court.
Police also recovered a vehicle that Willis allegedly used following the robberies. Police are still seeking more information about three robberies that happened last week, including one at Ken's House of Pancakes and another at Malama Market in Pahoa on Wednesday, as well as Thursday's robbery at KTA Puainako. Anyone with information can call Detective Richard Sherlock at 961-2379. Those who want to remain anonymous can call CrimeStoppers at 961-8300 in Hilo or 329-8181 in Kona.
House fire causes $350,000 in damage
A fire at a Kailua-Kona home over the weekend caused $350,000 in damage.
Shortly before noon on Saturday, firefighters responded to a fire at 75-0261 Pumehana St. It took them about one hour to put out flames engulfing the home's living room. No one was inside the single-story house when the fire broke out. The cause of the fire is being investigated.
HONOLULU
Suspect in sex assault surrenders to police
Bobby Fletcher Jr., 23, of Waipahu was charged with six counts of third-degree sexual assault Saturday after turning himself in to police and allegedly admitting having sexual contact with a juvenile. Bail was set at $50,000.
Police said the girl reported being sexually assaulted throughout October. Fletcher turned himself in on Thursday.
5 held after teen boy is robbed at gunpoint
Police arrested four youths and an 18-year-old man who allegedly robbed a 15-year-old boy at gunpoint Saturday night.
The victim was walking through a parking lot on Farrington Highway in Waipahu when the group approached him around 10:30 p.m. One of the boys brandished a handgun, and another asked if he had any money, police said.
As the victim handed over his money, his friends driving by witnessed the incident. Police said the group told the victim to go home and chased after his friends. Police were able to locate and arrest the suspects on investigation of first-degree robbery.