---
FAST FACTS HAWAII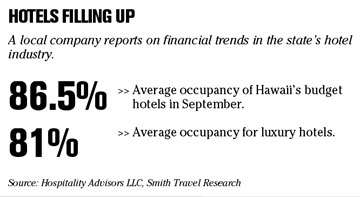 ---
NATION


Police-beating video illustrates YouTube's considerable power

LOS ANGELES » An FBI investigation prompted by video footage of a man being punched repeatedly in the face by police has demonstrated anew the power of the Internet sensation of the year, YouTube.com.

In addition to being a monumental time-waster around the office, YouTube could also become a tool for keeping police honest, some say.

This week, a clip on the post-it-yourself video Web site triggered a police-brutality investigation by the FBI. The footage shows the Aug. 11 arrest of alleged gang member William Cardenas, 24. Two Los Angeles officers can be seen holding him down on a Hollywood street; one punches him several times in the face before they are able to handcuff him.

The Los Angeles Police Department is also investigating the officers' conduct.

Police Chief William J. Bratton said he found the video to be "disturbing," but stressed that the 20-second clip amounts to only a fraction of what transpired.
Total fees in Delta case hit $100M
ATLANTA » In a third round of requests, lawyers and consultants involved in
Delta Air Lines Inc.
's bankruptcy case are requesting another $24.3 million in fees and expenses primarily covering four months of work, bringing the total asked for so far to nearly $100 million.
A hearing on the requests by 20 different firms and groups is scheduled for Dec. 13 in U.S. Bankruptcy Court in New York.
The amount brings the total professional compensation requested so far in the bankruptcy case to at least $98.5 million.
Atlanta-based Delta, the nation's third-largest carrier, filed for Chapter 11 protection in September 2005. It has said it expects to emerge from bankruptcy by the middle of next year.
Fastow will go to Louisiana prison
HOUSTON » Former Enron Corp. financial whiz Andrew Fastow will serve six years in a federal prison in Louisiana for plundering the company while concealing its feeble financial condition from investors.
Fastow, 44, had asked that he be assigned to a federal prison in Bastrop, Texas, about 30 miles southeast of Austin. U.S. District Judge Kenneth Hoyt made that recommendation when he sentenced Fastow in September.
But the U.S. Bureau of Prisons, which makes the final decision on where inmates are sent, assigned Fastow to the Federal Detention Center in Oakdale, La., about 200 miles northeast of Houston.
The detention center is part of a prison complex that includes a low security correctional institution and a satellite prison camp that houses minimum security male inmates. The entire prison complex has about 2,400 inmates.
PG&E apologizes for desecration
NEEDLES, Calif. »
Pacific Gas & Electric
apologized for desecrating the sacred site of an American Indian tribe when it built a $15 million water treatment plant, and it pledged to remove it as soon as another can be built.
California's biggest utility "regrets the spiritual consequences to the tribe" of building the plant at Topock Maze in the Mojave Desert west of the Arizona border, PG&E Chief Executive Thomas King said during a ceremony Thursday.
The apology was required under an agreement with the 1,100-member Fort Mojave tribe, which dropped a lawsuit against the utility and the California Department of Toxic Substances Control.
Much of the maze was destroyed by a railroad and a freeway, but about a third remains.
Magic Johnson, developers plan $1B Atlanta project
Basketball Hall-of-Famer Earvin "Magic" Johnson and two developers announced a $1 billion plan to revitalize three blocks of Atlanta's Midtown area.
The development at Peachtree and 12th Streets will have 1.2 million square-feet of office space, more than 500 hotel rooms and more than 600 condominiums. It will also have 150,000 square feet of retail space, according to a statement issued yesterday by Johnson and his partners, Daniel Corp. and Selig Enterprises Inc.
The project will be called "12th and Midtown" and is the latest venture for the former Los Angeles Lakers player who has moved into real estate.
Johnson seeks to revive neglected urban areas and last month announced a $120 million plan to build an office and housing complex in Miami's Little Havana area.
WORLD


Agreement would allow Russia to join WTO

MOSCOW » Officials in Washington and Moscow reached an agreement in principle for Russia to join the World Trade Organization, crossing the final big hurdle in the stop-and-go cycle that has marked the process since Moscow began its application shortly after the collapse of the Soviet Union.

The deal is expected to be signed next Saturday, when both President Bush and Russian President Vladimir V. Putin will be in Hanoi, Vietnam, for an Asian Pacific Economic Cooperation meeting, negotiators from both countries said. The White House also announced this week that Bush planned to stop in Moscow on Wednesday on his way to Vietnam.

"We have agreement in principle and are finalizing the details," U.S. trade representative Susan Schwab said in a statement. "It is a clear indication of Russia's efforts to participate fully in and benefit from the rules-based global trading system."

Putin has repeatedly said that joining the 149-member WTO was a major foreign policy goal, though Russia's oil-driven economy will see few direct gains from membership in the organization that sets the ground rules for globalization. But joining would give Russia a voice in world trade talks, with the potential to help set future trade policy.




---
BUSINESS PULSE