| | |
| --- | --- |
| | Newswatch |
---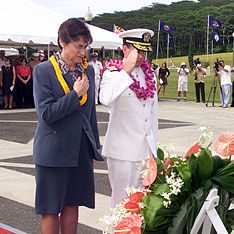 STAR-BULLETIN / 2003
Veterans ceremony tomorrow
Gov. Linda Lingle will deliver the keynote address and lay a wreath at a Veterans Day ceremony tomorrow at the Hawaii State Veterans Cemetery in Kaneohe. The ceremony will begin at 1 p.m. with other speakers to include Maj. Gen. Robert Lee, state adjutant general. There also will be a parade of flags and a presentation of leis of remembrance by Hawaii's veterans groups; a helicopter fly-over by the 193d Aviation; and a rifle salute by the Hawaii Air National Guard Honor Guard.
Escaped gas evacuates Maui police station
WAILUKU » Members of the Maui Police Department went on emergency alert yesterday afternoon, but they were the ones needing evacuation.
Police Lt. Donald Kanemitsu said during maintenance work on the air-conditioning system, heat sensors triggered the release of halon gas in the dispatch center. The gas was confined to the center, but as a precaution the entire police station was evacuated, including officers, employees and some detainees, police said.
Halon gas is used to suck oxygen from the air to suppress a fire, Kanemitsu said.
As a precaution, seven dispatch employees were taken to Maui Memorial Medical Center for observation and later released, Kanemitsu said.
He said people went back into the building after a little more than an hour. During the evacuation, the 911 emergency calls were rerouted to an alternative center, police said.
Relief fund set up for public workers
A special relief fund for the Oct. 15 earthquakes has been established for members of the American Federation of State County and Municipal Employees. AFSCME is the national union of the Hawaii Government Employees Association.
The group contributed $50,000 to the fund to assist active and retired members of HGEA/AFSCME Local 152, United Public Workers Local 646 and East-West Center Local 928 who suffered property damage.
For requests, call 808-535-0304 by Nov. 30.
THE ROAD TO CAREERS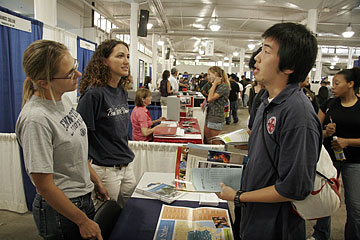 ---
Coming this weekend in your Star-Bulletin:
Saturday
Keeping Faith:
Kaumakapili Church will release an album of Hawaiian anthems, hymns and praise songs, all composed, arranged and sung by members, to honor the musical legacy of longtime music minister Martha Hohu.
Sunday
Today:
Ho'ala School's annual Cookie Bake fundraiser depends on loyal families that return year after year to bake thousands of dozens of cookies in support of the school. Also, in "The Weekly Eater": Uncle Bo's is part American bistro, part local-Asian bar and grill, part neighborhood bar, part city cafe -- and somehow it all works.
Business: The Outrigger Canoe Club, which is fighting a rent increase on the Waikiki beachfront site it rents from the neighboring Elks Lodge, is pulling in 10 times the revenue of its landlord, tax documents reveal.
| | |
| --- | --- |
| | Police, Fire, Courts |
---
HONOLULU
City is asked to look into killing of pet pig
The Humane Society of the United States has asked City Prosecutor Peter Carlisle to fully investigate and prosecute an animal cruelty case involving a Mililani family's 300-pound pet pig.
Porky was stabbed to death early Oct. 22 in an attack by two men and their dogs, the society said.
In a letter yesterday to Carlisle, the group said it was concerned "because of the apparent callous, gratuitously cruel nature of the killing, magnified by the fact that the men were apparently unaffected by the screams of witnesses begging them to stop the massacre."
"The seeming malice with which the killing was carried out, heedless of its effects on Porky's family members, is particularly troublesome and speaks to a disturbing propensity toward violence that we fear may carry over to affect people as well," said Dale Bartlett, the society's national deputy manager of animal cruelty issues.
He urged Carlisle to seek significant jail time and psychological counseling if the men responsible are successfully prosecuted for violating the state's animal cruelty law.
On Saturday, television station KHNL reported the Pig Hunters Association of Oahu had denounced the killing.
"What they did was straight wrong," pig hunter Cory Vidinhal said. "To kill it and try to take it -- it's just sick. These guys just aren't right."
Man held in forgery of gift card checks
Police arrested a 24-year-old man who allegedly tried to cash six counterfeit American Express gift card checks.
Police said the man walked into the American Savings Bank at 929 Queen St. at about 2:30 p.m. Wednesday to cash the checks. An alert teller could not find any security features on them and notified police.
The man was arrested for investigation of six counts of second-degree forgery and released pending investigation.
Police say 2 arrested ransacked stolen car
Two men were arrested after officers saw them ransacking a stolen car, police said.
Officers responding to a call about a stolen car on Liliha Street at about 3:35 p.m. Wednesday found two men, ages 32 and 39, going through the car. Both were arrested for investigation of auto theft and unauthorized entry into a motor vehicle.
2 pedestrians hit by vehicle hospitalized
Two pedestrians were taken to the Queen's Medical Center yesterday after being struck by a vehicle at about 10:30 a.m. at Pensacola and Lunalilo streets, said Bryan Cheplic, spokesman for the city Emergency Services Department. One of the pedestrians was in serious condition, and the other received minor injuries, Cheplic said.
CENTRAL OAHU
Police hunt down suspect in auto theft
Police arrested a 25-year-old man who had allegedly run from officers investigating an auto theft case on Halloween.
Police said that at about 1:45 a.m. Oct. 31, officers were sent to Kaweloalii Street in Mililani to investigate a report of someone breaking into a car. Officers found a man in the car and ordered him to get out, police said. He ran but an officer recognized him. Undercover officers found him Wednesday and arrested him for investigation of attempted auto theft.
Pedestrian identified who was killed by car
The Department of the Medical Examiner identified a 60-year-old woman who died after she was struck by a vehicle while crossing California Avenue in Wahiawa.
Leonida F. Dacuycuy of Wahiawa died Saturday of cranial cerebral injuries, according to the medical examiner.
At about 4:58 a.m. last Friday, police said, Dacuycuy was crossing the street when she was struck by a Ford Focus driven by a 49-year-old. Police said she was not in a crosswalk.
Dacuycuy was taken to the Queen's Medical Center in critical condition and died the following day.
LEEWARD OAHU
Police arrest driver of stolen mo-ped
Police arrested a 44-year-old man who was allegedly driving a stolen mo-ped Tuesday along a bike path in Pearl City.
Police said Defense Department officers stopped the man at about 8:30 a.m. as he was riding along the path. Further checks revealed the mo-ped had been reported stolen Oct. 14, and the driver was arrested for investigation of auto theft.
BIG ISLAND
Woman who drowned at Kapoho is identified
Police identified a woman yesterday whose body was found in the tidal pools at Kapoho Vacationland this week as Shaula Groulx, 40, of Portland, Ore.
She was found floating face down at 12:15 p.m. Tuesday. Groulx had been snorkeling in the tidal pools with friends. She was taken to Hilo Medical Center, where she died. An autopsy is pending.
Suspect sought in Kealakekua break-in
Big Island police are asking for the public's help in finding the person who broke into a gas station in Kealakekua last Friday.
The suspect threw a rock through the glass door and stole a pack of cold beer, police said. Anyone with information should call police officer Don Takahashi at 326-4646, ext. 253, or the nonemergency number at 935-3311. Anonymous calls can be made to CrimeStoppers at 961-8300 in Hilo or 329-8181 in Kona.