---
FAST FACTS HAWAII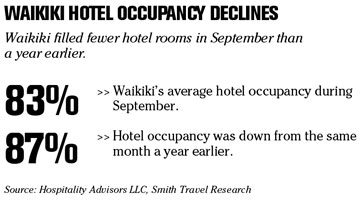 ---
HAWAII
Securitas acquires Safeguard Security
Securitas Security Services USA, a unit of Stockholm, Sweden-based
Securitas AB
, said yesterday it has purchased Honolulu-based Safeguard Security Services Inc.
The company "intends to integrate and transition Safeguard clients and employees seamlessly," said Tony Sabatino, Securitas' Southern California/Hawaii Region president.
Securitas already has more than 1,800 employees in Hawaii, while Safeguard has about 500, a Securitas spokeswoman said yesterday.
Securitas has operations in 23 countries, employing some 190,000 people. It entered the U.S. market in 1999, when it bought Pinkerton's Inc. Since then it has acquired Burns International and several other U.S. security firms.
The Gas Co. posts $6.1M in profit
Hawaii's Gas Co. had a $6.1 million gross profit last quarter, according to a financial statement released yesterday by the local company's New York-based parent.
Macquarie Infrastructure Co. announced the local results as part of its third-quarter earnings statement. Companywide, Macquarie earned $13.8 million on revenues of $163.3 million for the third quarter -- increases of 113 percent and 104 percent, respectively, over the same quarter in 2005.
Macquarie did not disclose year-ago results yesterday for the Gas Co., which it has owned since June.
The local subsidiary's gross profit per thermal unit -- a measure of energy in natural gas or propane -- increased for the quarter. Earnings before interest, taxes, depreciation and amortization decreased slightly, which Macquarie blamed on higher operating costs and a customer's closing of a propane cogeneration unit in 2005.
The Gas Co., founded in Hawaii in 1904, was purchased by a unit of Singapore investment company K1 Ventures Ltd. for $115 million in 2003. K1 Ventures then sold it to Macquarie in a $259 million deal that closed in June.
Hawaiian's passenger count rises
Hawaiian Airlines
, which flew more trans-Pacific and interisland flights last month than a year earlier, said yesterday the number of passengers it carried in October increased 7.5 percent to 521,546.
The total number of available seats multiplied by miles flown increased 7.6 percent to 684.2 million from 635.7 million a year earlier. Hawaiian's load factor, or the percentage of seats filled, fell 4.1 points to 86.5 percent from 90.6 percent.
The total miles flown by paying passengers gained 2.8 percent to 592.1 million from 576.2 million.
Hawaiian reports only its systemwide numbers and does not break out figures for its interisland and trans-Pacific routes.
[HAWAII INC.]
NEW JOBS
>>
Goodsill Anderson Quinn & Steifel
has announced several new hires.
Ronald H.W. Lum Jr.
rejoins the firm after a 19-month federal clerkship with
U.S. Magistrate Judge Barry M. Kurren
. He concentrates his practice in real estate development and finance. Rosemarie S. Sam joins the firm after serving a clerkship for state
Circuit Judge Judge Colleen K. Hira
i. She focuses her practice in the area of trusts and estates.
Seth K. Weaver
joins the firm after a clerkship with state
Circuit Judge Steven S. Alm
. He focuses his practice on litigation.
» Energy Industries has hired Van Matsushige as general manager of its West regions. He will oversee the company's operations in Hawaii and California, and the emerging team for Asia. He previously served as chief operating officer for Executive Center Ltd. of Hong Kong.
» University of Hawaii has named engineering professor Vassilis Syrmos as associate vice chancellor for research and graduate education. He has been serving the position on an interim basis since last year.
PROMOTIONS
>>
MW Group Ltd.
has promoted
Scott Lind
to property manager for Nimitz Center, Aiea Town Square, 1111 McCully St. and two warehouses on Kaihikapu Street and one on Koapaka Street. He will oversee the management and operations of the properties. He previously served as facilities manager for the firm's MW Services division.
» Hawaiian Airlines has promoted Pilialoha Wang to senior director of cargo sales and service from manager of cargo sales for the Hawaii, Australia and Tahiti markets. She has 21 years management experience in cargo and passenger sales and previously held an executive position with the Air Cargo Association of Hawaii. Cameron Krainin has been promoted to station manager for the airline's operations in Portland. She has served the company for 19 years as a flight attendant, French interpreter, in-flight supervisor and was a member of both the B-767 certification team and safety committee.
» Superstar Hawaii Transit Service has promoted Gavin Lucas to operations manager. He will manage day-to-day operations for a fleet of over 40 vehicles. Lucas has five years experience with the company. Nathan Chargualaf has been promoted to westbound sales manager. He will manage sales and promotions of the company's vehicle fleet for westbound accounts and direct bookings. Chargualaf recently served as groups coordinator, and started nearly nine years ago as a driver.
---
NATION
Disney reaps gold from 'Pirates'
LOS ANGELES » The blockbuster sequel "Pirates of the Caribbean: Dead Man's Chest" topped the summer hits that helped the
Walt Disney Co.
boost its per-share earnings 89 percent in the fourth quarter.
The Burbank-based company yesterday reported net income of $782 million, or 36 cents per share for the quarter ended Sept. 30, compared to $379 million, or 19 cents per share in the same period last year.
The media conglomerate also reported selling nearly a half million films over the Web through the Apple Computer Inc. iTunes store since September and said it was within weeks of announcing new deals with cable operators that would include additional revenue from digital offerings.
Four Seasons turns a profit
Four Seasons Inc.
, the luxury-hotel operator that received a $3.7 billion bid to be bought this week, posted a third-quarter profit as it charged customers higher rates.
Net income was $10.9 million, or 29 cents a share, compared with a loss of $11.4 million, or 31 cents, a year earlier, the Toronto-based company said yesterday. Revenue rose 12 percent to $58.2 million, the first gain in six quarters, and below analysts' estimates of $58.8 million.
---
BUSINESS PULSE