---
FAST FACTS HAWAII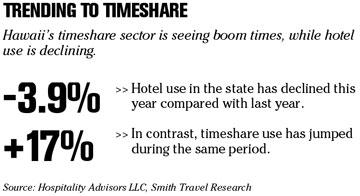 ---
NATION
Monopoly game boosts McDonald's sales
CHICAGO » Breakfast offerings and a Monopoly game promotion strengthened U.S. results and helped boost
McDonald's Corp.
's worldwide same-store sales by 5.5 percent last month, the burger chain said yesterday.
While extending its sales momentum, McDonald's continues to lag some of its biggest rivals in the fast-food industry's efforts to switch to a healthier cooking oil.
The Oak Brook, Ill.-based company said it is testing a zero-trans fat oil in a limited number of its U.S. restaurants. But after disclosing in Europe on Tuesday that it plans to switch oils in its European outlets, it said it still isn't ready to make such a move in its largest market.
Total October sales -- including those from restaurants opened in the past year -- grew 8.2 percent, or 6.6 percent excluding currency fluctuations.
Same-store sales, or those from restaurants open at least 13 months, rose 5.6 percent in the United States, aided by sales of breakfast items and the Snack Wrap, as well as Chicken Selects and premium chicken sandwiches, which were both featured in McDonald's recent Monopoly promotion.
NYSE to cut more than 500 workers
NEW YORK » The New York Stock Exchange said yesterday that it would cut more than 500 employees, or 17 percent of its staff, by March.
The exchange has been seeking to reduce its overhead costs by $200 million since March, when it became a public company, the NYSE Group, through its merger with Archipelago Holdings.
The exchange is moving toward more electronic trading. Last week, the Big Board said that it would close one of its five trading floors in downtown Manhattan as part of that shift. The specialists working there will be relocated.
Fox network ads push News Corp. into profit
News Corp.
, the media company run by Rupert Murdoch, posted a first-quarter profit as advertising sales climbed at its Fox broadcast and cable-television networks.
Net income was $843 million, or 27 cents share, compared with a loss of $433 million, or 13 cents, when the company had accounting costs. Sales rose 4.1 percent to $5.9 billion, New York-based News Corp. said yesterday in a statement.
Higher advertising at the Fox broadcast network and FX cable channel helped make up for a decline in home-video sales at News Corp.'s movie studios.
Morgan Stanley fined over stock reporting
Morgan Stanley
was fined $500,000 by regulators who claimed that the securities firm inaccurately reported short sales of stocks listed on the New York Stock Exchange.
The firm's Morgan Stanley DW Inc. brokerage unit didn't supervise its trade-reporting system adequately, according to a disciplinary order released yesterday.
Cisco's profit jumps 28 percent
SAN JOSE, Calif.
» Cisco Systems Inc.
, the world's biggest maker of computer-networking equipment, reported a surge in first-quarter profit that topped analysts' estimates as customers snapped up gear for faster Internet service.
The shares climbed after Cisco's second-quarter sales forecast also exceeded expectations. The San Jose, Calif.-based company said yesterday that net income rose 28 percent to $1.61 billion, or 26 cents a share. Sales gained 25 percent to $8.2 billion, beating the average $7.9 billion analyst estimate.
Cost of Sarbanes-Oxley is eyed
WASHINGTON » Regulators are seeking a way to lighten the burden of the Sarbanes-Oxley law on smaller companies by addressing the focus and cost of audits of internal controls, Christopher Cox, the chairman of the Securities and Exchange Commission, said yesterday.
Cox said in an interview that the goal was to focus the attention of auditors on only those controls that could be important to assuring the accuracy of financial records, a measure required by Section 404 of the Sarbanes-Oxley law, and to hold down the cost of the audits.
WORLD
Softbank Corp.'s profit doubles
TOKYO »
Softbank Corp.
, owner of Japan's third-largest wireless operator, said second-quarter profit doubled on contributions from the
Vodafone Group Plc
mobile-phone unit it bought in April.
Net income climbed to $111 million for the three months ended Sept. 30, the Tokyo-based company said yesterday.
---
BUSINESS PULSE