| | |
| --- | --- |
| | Newswatch |
---
Qi gong master to host fundraiser
Grandmaster Hong Liu will conduct a fundraiser from 10 a.m. to 3 p.m. Sunday for the Qi Center-Honolulu, 1110 University Ave.
Liu is a master teacher of the ancient Chinese healing art of qi gong and a medical doctor.
The minimum donation for the event is $150 per ticket, which is tax deductible as allowed by law. Tickets are available at the Qi Center. Call 947-1333 for more information.
Big Isle 'ice' dealer gets 20-year sentence
HILO » A Big Island man has been sentenced to 20 years in prison for dealing crystal methamphetamine and counterfeiting checks.
The sentence is the maximum which Edward K. Kelly, 26, will serve, but Circuit Judge Greg Nakamura also set a minimum of five years before Kelly can be considered for parole, said Hawaii County Deputy Prosecutor Ricky Damerville.
Kelly was a methamphetamine dealer and user in 2005 and 2006, Damerville said. He was also part of a ring who stole checks from people's mail, and with the information on the checks, using check-writing software, created counterfeit checks which the ring cashed.
Damerville warned that forgery of checks is a growing problem because banks no longer return cashed checks to customers. People should reconcile their checking account each month to be sure that no extra checks are being written, he said.
Individuals and business should not place outgoing checks in areas such as a mail box or countertop where they can be stolen, Damerville said.
People should also be aware that thieves can steal credit card offers sent to individuals, and the thieves can then apply for cards in the victim's name, he said.
Lingle releases $3.26M to fix Fort Weaver Road
Gov. Linda Lingle has released $3.26 million in additional state funds for the second phase of the Fort Weaver Road widening project.
Lingle previously released $9.23 million in state funds for the second phase. Work was to begin in June but was delayed because a consulting firm, Fujita & Associates, went out of business. Another bidder was sought to complete the design.
Also, additional funds were needed to complete the second phase due to rising construction costs relating to the shortage of steel and cement as well as higher bids for the project, according to state officials.
The first phase is expected to be completed by the end of the year. Hawaiian Dredging is slated to start work on the second phase by early next year.
Contractors will add two more lanes to Fort Weaver Road from Aawa Drive to Geiger Road.
---
SHINING STARS
---
Kaiser administrator to chair board
Susan Murray
, Kaiser Permanente Medical Center regional hospital administrator, is the new chairwoman of the Healthcare Association of Hawaii's Board of Directors. She succeeds Tom Driskill, president and chief executive officer, Hawaii Health Systems Corp.
Murray was installed with a new Board of Directors at the association's annual membership meeting Wednesday at the Hawaii Prince Hotel.
The association recognized retiring state Rep. Dennis Arakaki and Chris Pablo, Kaiser Permanente director of government and community relations.
Arakaki was honored for 21 years of service as a state representative, including many years as House Health Committee chairman, and his commitment "to improving health care for all of Hawaii's residents."
Pablo was honored by the American Hospital Association and Healthcare Association as Hawaii's first "grassroots champion." He was recognized for "working tirelessly to promote hospitals' well being throughout the state."
A cancer survivor, Pablo is "passionate about improving health care" for all residents and has worked to improve cancer detection and treatment, the association said.
---
"Shining Stars" runs Monday through Thursday.
| | |
| --- | --- |
| | Police, Fire, Courts |
---
BANK EVACUATION A FALSE ALARM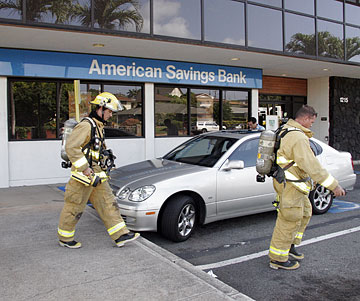 NEIGHBOR ISLANDS
Police arrest Puhi man after 25-year-old dies
LIHUE » Police arrested a 30-year-old Puhi man in the death of a 25-year-old Lihue man in an altercation.
According to Kauai police, the 25-year-old was found unresponsive by his grandmother Friday morning. He was transported to Wilcox Hospital, where he was pronounced dead.
On Saturday, police said they arrested the Puhi man , but he was later released pending further investigation.
An autopsy has been scheduled to determine the cause of death.
HONOLULU
Alleged baton attack leads to man's arrest
A 25-year-old Kaneohe man was arrested after he allegedly struck another man with a collapsible baton early yesterday morning in Kakaako.
Police said the suspect hit a 35-year-old man in the cheek with the baton about 2:20 a.m. yesterday.
The suspect then fled and was later found in Waikiki, where he was arrested on suspicion of second-degree assault. The case is pending investigation.
LATE ITEMS
Man arrested in theft from car parked at lot
Police arrested a 53-year-old man who allegedly stole items from a car that was at an auto dealership for repairs.
As dealership employees reported to work at about 7 a.m. Saturday they saw a man get out of the vehicle, police said
The man claimed to be a security officer, then fled on foot, police said.
Workers caught the man a short distance away and held him until officers arrived, police said.
The owner of the car, a 26-year-old man, confirmed that items had been stolen.
Police arrested the suspect for investigation of unauthorized entry into a motor vehicle.
Fire guts Puna house that was being built
Fire heavily damaged a house in lower Puna on the Big Island early today.
Fire crews were called just after midnight to a home on Jewel Drive in the Ainaloa subdivision. They found smoke and flames coming from about 60 percent of the home when they arrived on scene, according to a news release from the Hawaii County Fire Department.
A suspicious fire was reported at the same house on Halloween, according to the release.
The house was under construction, the release said.
Damage from today's fire was estimated at $155,000. The cause of the fire is under investigation.