Saddam's conviction and sentence are no surprise
THE ISSUE
Saddam Hussein has been convicted of crimes against humanity and sentenced to death.
SADDAM Hussein's conviction and death sentence, nearly three years after American troops pulled him from a bunker near his hometown of Tikrit, should surprise nobody. The verdict affirms a small portion of what have been his well-documented crimes against humanity.
President Bush called the conviction "a milestone in the Iraqi people's efforts to replace the rule of a tyrant with the rule of law," which is half-right. International legal experts said the yearlong trial had serious legal flaws, leaving doubts about whether Saddam was allowed to present a full defense.
Saddam and seven codefendants were accused in the executions of 148 men and boys in Dujail, north of Baghdad, in 1982. The mass killings were regarded as retaliation for an assassination attempt against the dictator.
Three defense attorneys were assassinated during the trial. One judge, an Iraqi Kurd, resigned in January because he was tired of criticism by Iraqi officials, and a second judge was blocked from succeeding him as chief judge because he had ties to Saddam's Baath Party.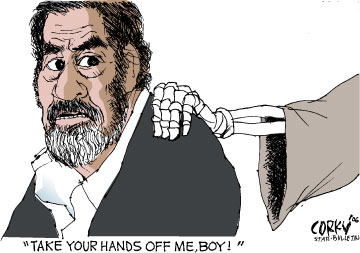 The judge who did take over often allowed the prosecutor to bring forth evidence and witnesses without first showing them to defense lawyers, a brazen violation of fair play. "There was a lack of impartiality and judicial temperament" from the judge, said Michael Scharf, an American law professor who advised the Iraqi tribunal during the trial.
Strangely, Saddam could be hanged before next spring and before a second trial involving the so-called Anfal military campaign against Iraqi Kurds in the late 1980s has been concluded. Prosecution witnesses have said at least 180,000 people were killed in the campaign.
Court officials had said they wanted to defer Saddam's execution until after he had been tried for more catastrophic crimes. However, the country's new Shiite and Kurd leaders are eager to eliminate him as a rallying point for Sunni militants. Court officials now are saying that nothing in Iraqi law will prevent them from executing him before the Anfal trial ended, but that would be a mistake.
The timing of the decision days before the U.S. mid-term elections might seem suspect. However, American lawyers who followed the case said the trial was not manipulated by U.S. officials. Iraqi judges often ignored advice by an office organized by the U.S. Embassy, insisting on following familiar Iraqi legal procedures.
Its effect on the U.S. elections will not be known until today's voting is completed, but it probably is minimal. The president naturally is trumpeting the verdict as "a landmark event in the history of Iraq," but the only landmark most U.S. voters are looking for is that which would lead to the withdrawal of American troops.