---
FAST FACTS HAWAII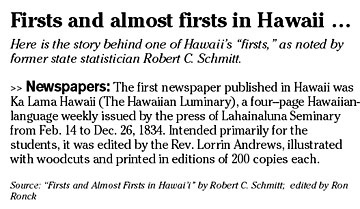 ---
NATION


Going to the office really can be a pain

Trying to rub away office stress in your neck and back? You're not alone, according to a recent study. Two-thirds of workers reported that they have some kind of physical problems because of job-related stress and exertion.

The most common ailment was fatigue followed closely by stress-related headaches. More than one-quarter of respondents said they've experienced back pain or neck strain.

"I've seen a number of patients with various aches and pains due to stress, improper posture and use of tools in the work force," said Dr. Jeffrey Mendelson of St. John Macomb Hospital in Warren, Mich. "There are several techniques and products that employees can use to alleviate this tension on the body."

Workplace massages ranked as the most wanted remedy, according to 46 percent of workers, followed by ergonomic desk chairs at 36 percent. Nearly one-quarter said larger or adjustable computer screens would alleviate some of their pain, while 27 percent would rather take more breaks to relieve stress.

Swingline Workplace Tools, a unit of ACCO Brands Corp., sponsored the study and polled 909 adults nationwide who work in offices.
Most people modify their cars
Not all consumers add flames and neon lights to their wheels, but most personalize their cars through some kind of modification, according to a recent survey from Consumer Reports.
More than three-fourths of consumers ages 18 to 34 and 74 percent of 35-to-50-year-olds personalize their vehicles, while 68 percent of drivers 55 and over change their cars.
The auto tuning trends cuts across gender lines too, with 70 percent of women and 77 percent of men doing it.
"The car-customizing tradition is as old as the automobile itself," said Jeff Bartlett, deputy editor for autos at www.ConsumerReports.org. "The common perception is that the only modifiers today are young men, but the fact is, making a car uniquely your own is an equal-oppor- tunity indulgence."
More than three out of five focus on the interior of cars by adding new floor mats, stereo system or car alarm, while one-third choose to personalize the exterior with new headlights, bedliners or spoilers. Forty-eight percent of modifiers are inspired by lifestyle, followed by comfort at 44 percent.
The survey covered 855 adults nationwide in households with at least one vehicle.
Older women enjoy independence
Financial comfort comes with independence for many women, a recent survey shows.
Sixty-eight percent of divorcees and 65 percent of widows said they feel more financially comfortable now than when they were married, according to a study from OppenheimerFunds Inc. More than half of widows reported that they enjoyed investing and learning about different investment options, and 45 percent said they felt qualified making their own investment decisions. Only 27 percent of married women and divorcees felt qualified.
Nearly four out of five of all respondents are happy with their investment managers and 43 percent expect to rely on them more.
"This research shows that affluent women have a positive working relationship with their financial advisers," said Donna Winn, president of Oppenheimer's wealth management group. "However, with married couples, there is still an opportunity for advisers to work more closely with both spouses and establish a relationship with the female who, chances are, will run the household finances one day."
Oppenheimer surveyed 275 women aged 55 and older with at least $500,000 in investable assets.
---
BUSINESS PULSE