| | |
| --- | --- |
| | Newswatch |
---
Lookout reopens after quakes
The state re-opened Akona Pule Highway and Pololu Valley scenic lookout in North Kohala on the Big Island Friday after repairing damage from the Oct. 15 earthquakes.
Crews repaired road surfaces and retaining walls. Loose rocks and trees on surrounding hillsides were also removed as safety precautions. Hundreds of tons of landslide debris also was removed to clear the roadways.
Hawaiian Way Fund delivers $103,000 in aid
More than $103,000 has been presented to nonprofit organizations from the Hawaiian Way Fund, the philanthropic initiative of the Council for Native Hawaiian Advancement.
A check was given to 20 "Partner Recipients" at the council's 5th Annual Native Hawaiian Convention, according to a news release.
The recipients provide a variety of community development programs and services, including at-risk youth programs, language, culture, education, health and housing programs and more.
The fund was established three years ago to support nonprofits operating on the "Hawaiian Way" of meeting community needs. It is designed to attract individual and corporate giving to social, educational, economic, environmental and cultural initiatives.
The fund aims to perpetuate native Hawaiian culture and build healthy communities in Hawaii "by bridging donors to the nonprofits."
A PLACE TO CALL HOME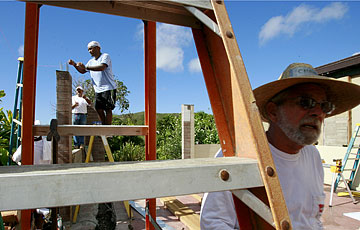 JCC president announces '07 retirement
Riki May Amano, president and executive director of the Japanese Cultural Center of Hawaii, announced plans to retire by April after nearly two years in the position, according to a news release.
The center's board of directors will begin searching immediately for someone to fill the president and executive director position.
Amano was a judge in the Circuit and District courts in Hilo for more than 11 years before taking the job as president of the center in May 2005.
Under her tenure, the group saw an increase in membership and increased programs, exhibitions and partnerships.
The JCCH is a nonprofit organization that strives to share the history, heritage and culture of the Japanese-American experience in Hawaii.
| | |
| --- | --- |
| | Police, Fire, Courts |
---
LEEWARD OAHU
Heat puts marching teens in hospital
Nine teenagers who had marched in the Waianae Veteran's Day Parade were taken to the hospital after falling ill from the heat late yesterday morning, city Emergency Services Department spokesman Bryan Cheplic said.
The teenagers were from Junior ROTC programs at various high schools on Oahu, were standing in the sun during a post-parade ceremony, said Rocky Naeole, the president of the Waianae Military Civilian Advisory Council, which sponsored the event.
"It was too hot for them. A lot of the cadets were getting dehydrated and they were starting to cramp up," Naeole said.
The Honolulu Fire Department helped set up a triage unit to evaluate the teenagers before sending them to the hospital.
Paramedics took a 13-year-old girl and two boys, both 17, to Waianae Coast Comprehensive Health Center in stable condition, Cheplic said.
Six girls, aged 15 to 17, were taken to St. Francis Medical Center West. All were in stable condition except for a 16-year-old girl in serious, but stable condition. The girl vomited, showed signs of extreme dehydration and received an IV from paramedics. The girl was the most serious case out of the nine teenagers, Cheplic said.
All the teens were treated and released.
NEIGHBOR ISLANDS
Police ID woman found dead in rain forest
HILO » Big Island police identified a woman found dead Thursday in a Panaewa rainforest as 21-year-old Daysha Aiona-Aka.
Detectives from the Criminal Investigations Section confirmed her identity yesterday morning from a forensic expert, who compared dental record and X-rays taken during the victim's autopsy Friday.
Aiona-Aka's body was recovered Thursday. Police arrested Jeffrey B. Santos, who is believed to be her ex-boyfriend. Santos faces charges of second-degree murder, ownership or possession of a prohibited firearm, use of a firearm in the commission of a felony, violating a protective order and second-degree arson.
He is being held on $100,000 bail at the Hilo Police cellblock. His initial court appearance is tomorrow.