City ponders end of Football Express
Lower ridership means a fare hike is needed for the bus service to break even
Citing increasing operating costs and low ridership, city officials said yesterday they might cancel express bus rides to University of Hawaii football home games beginning next season.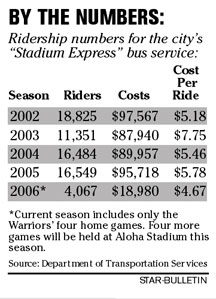 But they could also decide to keep the buses running by doubling the $3 one-way fee to Aloha Stadium to make up for the fewer riders, said James Burke, Public Transit Division administrator.
"We will finish our evaluation in January," Burke said. "We are going to take a hard look at it and see if we can continue to run it."
A city analysis of the service showed that "revenues have been steadily declining over the last several years" while gas prices and workers' salaries have been going up.
The program, known as Football Express, is a premium service of TheBus that provides direct service to the stadium from eight locations, including Ewa Beach, Mililani, Waikiki and Hawaii Kai.
During the last football season, 16,549 people used the service, down from 18,825 in 2002, when the city began monitoring the program more closely. And as fewer people ride the buses, the city has increasingly relied on taxpayers' money to cover costs, which average about $5,000 a game.
The Warriors' five-game winning streak this season has done nothing to bounce back ridership.
For example, during the team's last home game against Idaho State on Oct. 28, the city was forced to spend $2,000 after collecting only $3,000 in fares, Burke said. Under the current situation, the city would need to increase bus fares from $3 to $6 to break even, he said.
University of Hawaii student Matthew Gerhardt, who depended on the express bus during the first two years of school to watch games, said ending the program would result in even fewer spectators at Aloha Stadium.
"That's the way I relied to get to every single UH game," said Gerhardt, who's now a senior and student senator. "It's always disappointing to hear when the city decides to cancel a program that helps the students."
Gerhardt said the school's student government is drafting a proposal to give undergraduate students a chance to pay a $50 fee each year for access to all season games.
For the past three years, UH has chartered four buses during home games that pick up students from the Manoa dormitories for free. The service will still be available for students, said university spokesman Jim Manke.