Judge blames design of road in fatal car crash
A former Navy man is acquitted in the death of his car passenger
A state judge has acquitted a former Navy man of first-degree negligent homicide, citing the poor design of a state road as the cause of a 2003 fatal car crash near Kalaeloa.
The road, Roosevelt Avenue, is also the site of a similar car crash that killed two teenagers this summer.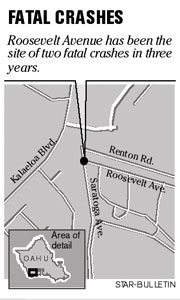 On June 21, 2003, a car driven by John G. Elder crashed through a chain-link fence, went airborne and slammed into an embankment on the far side of a ditch at the end of Roosevelt Avenue.
In a written ruling, Circuit Judge Karl Sakamoto found that the design of the road, not Elder's conduct, was the underlying root cause of the crash and that the state failed to implement nationally recognized standards of roadway safety.
"There were insufficient warnings on Roosevelt Road indicating its termination and without such indications, Defendant could not have been aware of the risk that his drive on this seemingly normal state road would abruptly end in a cliff and lead to the death of his friend," Sakamoto said.
State Department of Transportation spokesman Scott Ishikawa declined comment on the court's findings because of anticipated civil litigation.
In a 16-page ruling issued yesterday, Sakamoto found that the state had not proved that Elder, 23, was under the influence of alcohol or drugs, nor speeding excessively in the 2003 crash.
Killed in the crash was Elder's lone passenger, 21-year-old Nicholas Lopez, who was also in the Navy. Lopez was not wearing a seat belt and was ejected from the car on impact. The court also found his failure to use a seat belt contributed to his death and that he likely would have survived had he been wearing one and not been ejected from the car.
The crash occurred basically in the same area where two teenagers were killed on July 25 when the speeding car they were riding went over the embankment, said Elder's defense attorney, Art Ross.
Besides the chain-link fence fitted with four small reflectors, there were no signs or warnings posted along Roosevelt to indicate the road would end. Beyond the fence is a small strip of dirt before dropping into a canal about 25 feet deep. The road was dark, as there were no working street lights.
Ross said the court's decision sends a message to the state that it must maintain its roads and provide fair warnings of dangerous conditions.
The driver in the July 25 crash that killed Leslie Kim, 16, and Tanya House, 18, when their car flew off the end of Roosevelt Avenue has not been charged, said Jim Fulton, Prosecutor's Office spokesman.
When asked if the acquittal of Elder would affect future cases where the road might be found to be defective, Fulton said it is subject to the judge's discretion and is not automatic.
"The judge is not obligated to take that information in a new case, but they could use it in the new case. It may be admissible; it may not be admissible. It is not necessarily required to be admissible because each case has different facts.
"Whether or not those elements can be admissible in any other case is subject to the evidence of that case and that particular judge in that situation."
Dr. Richard Gill, a consultant hired by the defense, testified at Elder's trial that the design of the road was in "gross deviation from nationally recognized, accepted and uniform standards of roadway safety and maintenance" and that there was no reason for the road to end as abruptly as it did and without warning, Sakamoto said.
Elder, who was wearing a seat belt, suffered broken bones in each foot and two breaks and a split in his femur. He did not suffer significant internal injuries.
Two of the defense experts had testified that Elder was driving at 45 mph and that his injuries were not consistent with a car traveling at 78 mph, as suggested by the state's expert.
Deputy Prosecutor Darryl Miyahira could not be reached for comment. The jury-waived trial occurred in August and September and lasted five days.
Elder, who could not be reached, is now in Texas studying to be a law enforcement officer, Ross said. His father told Ross that they felt vindicated by the court's decision.
---
Star-Bulletin reporter Robert Shikina contributed to this report.