| | |
| --- | --- |
| | Wood Craft |
---
Mary Poole is in her glory over Cards' World Series win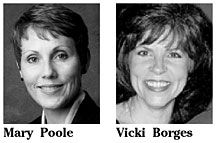 No one in the Star-Bulletin newsroom is happier than Editorial Page Editor
Mary Poole
that St. Louis won the World Series over Detroit. The lifelong Cards' fan spent all night huddled on the street at age 13 to buy World Series tickets in 1968, the last time Cards and Tigers battled it out. Detroit won that series and Mary has been waiting ever since for a rematch. In her youth, Mary was a softball player. She learned how to play ball from her late dad
Claude "Junior" Poole
, who was a great softball pitcher. He is in the St. Louis and Illinois Softball Halls of Fame. The Junior Poole 35 and Over League in Illinois was named after him. Mary's mom
Frances Faye
would sometimes catch for Junior while he practiced but he pitched balls so hard and fast that he broke blood vessels in her hand and she had to stop ...
Raj Watumull does get around. He's pictured in the November issue of Town & Country at Elton John's White Tie & Tiara Ball at John's estate this summer in Old Windsor, England. The party draws the rich and famous and raises millions for John's AIDS Foundation. John wore three long diamond necklaces and actress Elizabeth Hurley's beauty was enhanced by diamonds totaling 200 carats, T&C said ... This seems like the right spot to report that Harry Winston has rare timepieces and jewels on display through tomorrow at Ala Moana Center for the World Festival. Winston's pieces are magnificent. The Lace, a timepiece with 1,035 diamonds totaling 23.6 carats, is on display ...
Vicki Borges looks hot and flashy on birthday
The invitationS
and paper cocktail napkins for
Vicki Borges'
50th birthday party Sunday were special. They displayed a good-looking women saying: "I'm still hot. It just comes in flashes." The bash was thrown by
Carolyn Berry
for her good friend Vicki at a large Diamond Head home, with a spacious party area around the pool. Besides her husband
Jimmy Borges,
other performers in the crowd of 75 included
Matt Catingub, Danny Kaleikini, Cathy Foy, Shari Lynn, Carole Kai, Guy Merola, Mary Louise Blackburn
and
Jack
and
Cha Thompson.
Most sang, backed by keyboarder-singer
Tennyson Stevens,
bassist
Steve Jones
and drummer
Daryl Pellegrini
...
Ben Wood
, who sold the Star-Bulletin in the streets of downtown Honolulu during World War II, writes of people, places and things in our Hawaii. E-mail him at
bwood@starbulletin.com