Maui Land posts loss on fewer property sales
The company incurs costs related to its new packing plant
Maui Land & Pineapple Co. said yesterday it posted a $2.5 million loss and lower revenue in the third quarter because of startup costs related to its new fresh fruit packing facility, and fewer property sales.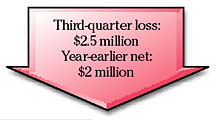 MLP had a loss of 34 cents a share last quarter compared with a gain of 27 cents a share a year earlier, when the company had a $2 million profit. Revenue fell 9.6 percent to $39.9 million from $44.1 million.
The company noted that results for the year-ago quarter had been boosted by $6 million in revenue and $5.6 million in pretax profit from Upcountry Maui real estate sales. It has been selling real estate that is not core to its strategic plan.
Maui Land had an operating profit of $2 million in its development division last quarter, compared with a $7.6 million gain a year earlier. Revenue in the unit fell 22.8 percent to $10.9 million from $14.1 million.
Losses widened in the company's pineapple operations to $4 million from $2.5 million, primarily due to accelerated depreciation of assets, and salaries and wages for employees who have been taken out of operations for retraining.
MLP also said increased revenue from higher sales volume of fresh pineapple and higher average prices for processed pineapple were more than offset by reduced sales volume of processed pineapple. Pineapple revenue fell 10.2 percent to $18.2 million from $20.3 million.
For the first nine months of the year, MLP said it recorded $1.9 million of employee severance charges and $764,000 of inventory write-offs related to the beginning of operations at its $17.5 million packing facility in Kahului.
The company said it expects to save $1.5 million annually by automating and integrating the fresh and processed fruit grading and packing operations.
MLP's Kapalua Resort, meanwhile, narrowed its loss from the year-ago quarter.
"(It) delivered a modest improvement in operating performance while construction at the Honolua Village Center neared completion in the quarter," said David Cole, chairman, president and chief executive of MLP.
The company's resort segment had an operating loss of $2 million compared with a loss of $2.2 million a year ago, while revenue rose 12.1 percent to $10.8 million from $9.6 million.