---
FAST FACTS HAWAII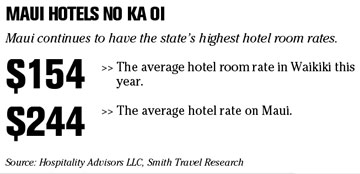 ---
HAWAII


Cyanotech to trade briefly under new ticker 'CYAND' Cyanotech Corp.

will trade under a new ticker symbol for 30 days beginning Monday, the same day its 1-for-4 reverse stock split goes into effect before the market opens.

The Kona-based producer of nutritional products from microalgae said yesterday its shares will trade under the symbol "CYAND" instead of "CYAN." The ticker will revert back to "CYAN" on Dec. 5, the company said.

Cyanotech's reverse split is meant to boost its shares above $1 and eliminate one of the reasons it faces deslisting from the Nasdaq SmallCap Market. The stock closed yesterday at 43 cents a share.

The company also faces possible delisting for failure to file a quarterly financial statement with the Securities and Exchange Commission.

Cyanotech appeared before a Nasdaq appeals panel regarding the delisting on Oct. 12, but the panel's decision has not yet been announced. Without a successful appeal or an extension of the delisting notice, Cyanotech's stock is due to be delisted before the start of trading on Nov. 27.
NATION


Online ad company to pay fine for covert downloads

WASHINGTON » An online media and advertising company accused of unfairly and deceptively downloading its software onto consumers' computers has agreed to pay a $3 million fine to the Federal Trade Commission.

In a settlement with the FTC, Zango Inc. agreed to clearly notify consumers and seek their consent before installing its software, which critics call "adware," onto Web surfers' computers. The company said it would also make it easier for consumers to remove the software.

Computer privacy advocates hailed the settlement as a landmark agreement that defines what a company must do to obtain consent before installing software on a user's computer.

Zango, formerly known as 180solutions, blamed many of the deceptive practices cited by the FTC on its affiliates, which it said it no longer uses.
Buffett's firm quadruples profit
Berkshire Hathaway Inc.
, the insurance and investment firm run by billionaire Warren Buffett, said third-quarter profit more than quadrupled on fewer claims and higher premiums.
Net income climbed to $2.77 billion, or $1,797 a share, from $586 million, or $381, a year earlier, the Omaha, Nebraska-based company said in a statement today. Profit before investment gains was $1,687 a share, more than the $1,344 estimated by Gary Ransom, an analyst at Fox-Pitt Kelton Inc.
Buffett's insurance units rebounded from Hurricane Katrina, benefiting from milder weather and a retreat by competitors wary of covering properties along the U.S. Gulf Coast. The businesses had underwriting profit of $917 million after a loss of $1.17 billion a year earlier.
4 Starbucks laptops go missing
SEATTLE »
Starbucks Corp.
said yesterday it had lost track of four laptop computers, two of which had private information on about 60,000 current and former U.S. employees and fewer than 80 Canadian workers and contractors.
The data, which includes names, addresses and Social Security numbers, is about three years old, from before December 2003, said Valerie O'Neil, a spokeswoman for the Seattle-based coffee retailer.
The company has not received any reports that anyone's personal information has been compromised.
"We have no reason to believe these laptops are in the hands of someone who wants to misuse them," O'Neil said. "We just want to make every effort to protect our partners."
WORLD


Aer Lingus rejects Ryanair bid

DUBLIN, Ireland » Aer Lingus has formally rejected a takeover bid by rival airline Ryanair, telling shareholders in its defense document published Friday that the offer places a low value on the formerly state-controlled carrier.

Ryanair Holdings PLC, Europe's fastest-growing airline, offered $3.57 a share for Aer Lingus Group PLC on Oct. 5, just days after its shares were floated on the Irish and British stock exchanges at $2.81 -- or 27 percent less.

But in a Dublin news conference formally rejecting the offer, Aer Lingus chiefs said the IPO had generated more than $650 million for the previously cash-poor airline that would allow it to borrow heavily, buy new aircraft and rapidly expand its network, particularly into the United States.
Mediaset may bid for German broadcaster
MILAN »
Mediaset
, the largest Italian television company, said yesterday that it might bid to buy the biggest private German broadcaster,
ProSiebenSat.1.
Such a move would help Mediaset counter tough competition in its domestic market and the prospect of new legislation that would limit future growth.
Mediaset, which is 36 percent owned by the former Italian prime minister, Silvio Berlusconi, will decide at a board meeting on Tuesday whether to make a formal expression of interest, a spokesman said.
---
BUSINESS PULSE