| | |
| --- | --- |
| | Island Mele |
---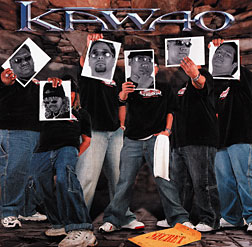 The Secrets Out
Kawao
(Jus-us Kawao JKR-002)
Kawao's strength as a mainstream Jawaiian sextet outweighs the weaknesses evident here, with the single remake, "Tenement Yard," being the nadir of the project. Using a snippet of a vintage hit without attribution -- Cliff Richard's 1963 UK hit, "Summer Holiday," in this case -- is even worse than affecting bogus Afro-Caribbean and Afro-British accents. Kawao commits both those faux pas here.
On the other hand, Kawao does well with original songs that come from personal experience -- romantic attachments and raw sexual desire, for example, rather than Jamaican tenements or fanciful trips to London. Walt G., the sextet's main writer/arranger, sets the ever-popular topics of girl watching and nightclub lust to an insistent reggae-pop rhythm with "Wanna Take You Home," and is consistent in coming up with commercial Jawaiian material throughout. He takes the group beyond the limits of Jawaiian music with "All This Time," a beautiful soft-rock acoustic number that expresses a reformed playa's contrition for past deeds.
"Kawao Heat," a well-written autobiographical anthem, closes the album with another collection of driving rhythms and irresistible beats.
---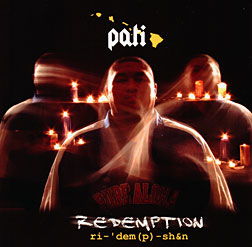 Redemption
Pati
(Vizun Entertainment VE 1001)
Patrick "Pati" Soi, who hit big in Hawaii several years ago, now lives in Utah. He's been off the charts for several years but makes an impressive return with "Redemption." Pati writes in the liner notes that he is "redeeming myself from a lot of things," and indicates that there are things he would do differently if he could. With his voice as strong and soulful as ever, Pati is back to redeem his career as well as his soul.
The title song ponders the challenges involved in making positive choices amid the temptations of the music business. Songs written for his parents -- "My Father" and "Love of a Mother" -- expand on the themes of repentance and redemption in powerful style. A third noteworthy song, "Ua Lea," is beautiful music, but sung in an unidentified language, and with no translation provided, its significance will be lost on most listeners.
Other songs also stand out. "Da Mix," featuring the polylingual rapping of O-shen, describes the milieu and attitude of the awa drinking scene with vivid lyrical images. The arrangement of the rhythm tracks -- instantly reminiscent of Stevie Wonder's 1980 hit, "Master Blaster (Jammin')" -- adds commercial appeal. "No Look My Lady," a group project with input from Sudden Rush and B.E.T., among others, closes the album with a commercial concoction of catchy beats and thuggish images.
---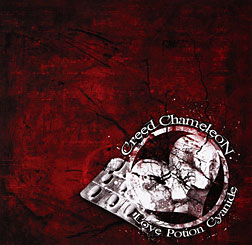 Love Potion Cyanide
Creed Chameleon
(TRX Music Channel TRXCC001
If you can forgive Creed Chameleon for using the melody of the Animals' hit, "Please Don't Let Me Be Misunderstood," without attribution, his intriguingly titled album is a fine calling card. There's a song title or two that can't be written in full in a family newspaper, and the lyrics include most of the usual expletives, but with solid hard-core music tracks reinforcing his lyric insights and steady delivery, this "potion" rocks throughout.
Take "Father of the Year," which describes a problematic relationship in powerful terms. Another cut, which is even better, describes the ongoing scourge of the local ice epidemic and the role of ice-addicted prostitutes in spreading various diseases. He shows a slightly softer side as "XY Chromosome" examines the complications that can bedevil romantic relationships; sudden tempo changes in the rhythm tracks reinforce a sense of emotional turmoil.
"Dream Builder," the final track, shows off Creed's range as he successfully switches from hard-core hip hop to a smooth electronic jazz groove.
John Berger
, who has covered the local entertainment scene since 1972, writes reviews of recordings produced by Hawaii artists. See the Star-Bulletin's Today section on Fridays for the latest reviews. Reach John Berger at
jberger@starbulletin.com
.