'Monkey Bar' opens for business at Hyatt Regency
AFTER PULLING out at Chai's Island Bistro a few weeks ago, local promoters
Architechs Hawaii
and
Vertical Junkies
have teamed up with a new partner to return to one of their old stomping grounds.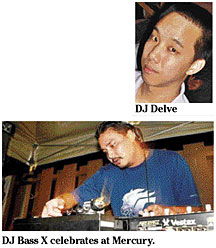 With Tantriq Entertainment now on board, the three crews present "Monkey Bar" at Ciao Mein in the Hyatt Regency Waikiki starting this weekend. It's the same space that the Architechs used to hold court with "Feng Shui," while Tantriq has made numerous attempts to resurrect the venue throughout 2006.
Doors open at 9:30 p.m. on Saturday, with DJs Delve and XL manning the turntables. And to make it easier on your designated driver, free validated parking is available at the hotel ...
CONGRATS TO DJ BassX, who celebrates a decade spinning records this week with a party at Mercury.
While he's a resident at the bar's monthly "Subphonix" party, the November installment is being held in his honor so local residents can "come pay homage to a Hawaii Drum-N-Bass legend." BassX just returned to the islands after playing last week in Los Angeles, at the Temple of Boom's "Samurai Sundaze" party alongside DJs Circuit, XXXL, Origin and Scooba.
Back at home, DJs Saya and Antikkz will open for BassX this weekend ...
BLAISDELL ARENA is the place to be this weekend for fight fans, when "Stand Up Martial Arts" takes place on Saturday.
Unlike other mixed martial arts promotions, "SUMA" is a kickboxing event, which removes the ground game and keeps fighters standing up. Headlining the card is Ron Jhun, who will face off against Jack Thames. Harris Sarmiento will fight James Martinez, and Chris West will go up against Scott Lighty. Other fighters scheduled to participate include Kaleo Kwan, Jay Carter, Kolo Koka, Chico Canteberas and Kaipo Cayetano.
Doors open at 7:30 p.m. on Saturday for "SUMA," with tickets starting at just $19.50 ...
WAIKIKI NIGHTCLUB Pink Cadillac has revamped their Saturday night weekly, bringing in DJ SailorGloom to host "Deca-Dance" at the club.
Part of the Agents of Empire crew, SailorGloom is well-traveled, having recently represented Hawaii at "Convergence 12" in New Orleans. He also maintains a regular guest DJ slot at the Aladdin Casino's Krave Lounge in Las Vegas.
At "Deca-Dance," party people can expect a mix of New Wave, Synthpop and '80s music, open to everyone 18-and-over. Cover is in the $5 to $10 range; call 946-6499 for more info ...
LOCAL PROMOTER Jason Miller has announced a Hawaii tour by punk rockers Dr. Know in December.
With help from LocalPunks.net and Underworld Events, Miller's Hawaiian Express Records will host a 21-and-over party at Kemoo Farms on Dec. 7, followed by a pair of all-ages shows at Anna Bannana's and Panama Hattie's on Dec. 9 and Dec. 10, respectively.
A movie premiere is also scheduled for Dec. 8 at the Honolulu Academy of Arts, and yes, that one will be all-ages as well ...
CAN'T WAIT until next month to rock hard? Head out to Panama Hattie's on Sunday for a performance by 8MM Overdose. The fun starts at 5 p.m. with Laissez Faire, Trepidation, City of 7 Hills, Grind Method, Lushion and House of Tragic opening things up ...