---
FAST FACTS HAWAII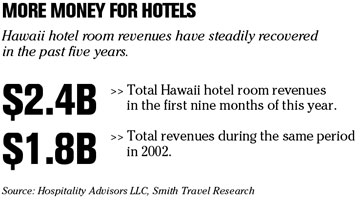 ---
HAWAII
Hyatt hotel workers ratify new contract
Unite Here Local 5 union members at the Hyatt Regency Waikiki Resort & Spa voted yesterday to accept a new labor contract.
The union said yesterday that 96 percent of the ballots were in favor of the agreement reached last week by negotiators, but the union did not specify how many members voted. The hotel employs about 500 union workers.
The contract, which covered health-care benefits, housekeeping workloads, pensions and job subcontracting, ended more than four months of collective bargaining.
Yesterday's vote came on the heels of similar agreements approved by workers at Hilton Hawaiian Village and Waikiki's four Sheraton hotels. Four other Local 5 hotels, including the Waikiki Beach Marriott, the Ilikai Hotel, the Ala Moana Hotel and the Kahala, continue to work without a new contract.
Hawaiian Air flies 96% on time
Hawaiian Airlines kept its streak alive in September of leading U.S. airlines for best on-time performance, with 96 percent of its flights arriving as scheduled. Rival
Aloha Airlines
was second at 95.8 percent while go!'s parent company
Mesa Air Group Inc.
was 15th with 73.3 percent.
Hawaiian Air also finished first in baggage handling with 2.9 mishandled baggage reports for every 1,000 passengers during the month, and fewest oversales with zero passengers being denied boarding during the third quarter, according to the monthly Air Travel Consumer Report issued yesterday by the U.S. Department of Transportation. Aloha was fourth in both those categories while Mesa finished 16th and 14th, respectively.
Aloha had the fewest complaints of any carrier, with zero. Hawaiian was 12th and Mesa was 20th.
Hawaiian was fifth in fewest cancellations. Aloha was 11th and Mesa was 17th.
Analyst downgrades HEI's stock
Hawaiian Electric Industries Inc.
, whose net income fell 13.8 percent in the third quarter from a year earlier, was downgraded yesterday to "neutral" from "outperform" by analyst David Parker of Tampa, Fla.-based
Robert W. Baird & Co.
Baird's price target is $28 a share.
The company's stock fell 49 cents yesterday to close at $27.42, down from a 52-week high of $28.94 reached Aug. 1.
[HAWAII INC.]
PROMOTIONS
» Tiki's Grill &Bar
*
has promoted
Michael C. Miller
to director of sales and marketing from sales manager. He will oversee both Tiki's and its sister restaurant, Holokai Grill, and will focus on promoting Tiki's as a special place for parties and corporate group functions. He previously served as manager of Gerard's at the Plantation Inn on Maui.
» The Oceanic Institute has announced several staff appointments. Anthony C. Ostrowski has been promoted to vice president. He will assist with coordination of activities between programs, and with optimizing research opportunities and securing funds. He has worked in the institute for 19 years in various areas including the finfish and nutrition departments and as director of the U.S. marine shrimp farming program. Warren G. Dominy, research scientist, has been promoted to acting director of the institute's aquatic feeds and nutrition department. He will oversee the department's goal to create economically viable feeds that appeal to aquacultured species and result in marketable consumer products. He has worked with the institute as a feeds specialist for 23 years. Zhi Yong Ju has been hired as chemical safety officer. He will oversee purchasing and approval of chemical inventory, and its storage, labeling and disposal. He will also be responsible for the institute's emergency response plan for chemicals. He is a research scientist in the aquatic feeds and nutrition department.
AWARDS
»
Jodi A. Lam
of Morgan Stanley has been awarded with the certified financial planner certification. Lam is a wealth advisor in the firm's Honolulu office.
---
NATION
MySpace investor claims antitrust
SAN JOSE, Calif. » An early investor in
MySpace
sued the popular social networking Web site yesterday, claiming the company violated antitrust laws by blocking links to his new online video-sharing venture.
Brad Greenspan, chief executive of Los Angeles-based LiveUniverse Inc., claims that last month MySpace began deleting references on user pages to his new Web site, vidiLife.com, and has dismantled video links and blocked users from mentioning the site.
Both sites allow users to post videos and create online profiles for swapping media and collecting Internet pen pals.
Krispy Kreme's sales take deep plunge
CHARLOTTE, N.C. » Buried deep in
Krispy Kreme Doughnuts Inc.
's annual report, released this week after months of delay, was a startling revelation: sales of the once trendy treats have dropped more than 18 percent in each of the last two years.
Yes, Krispy Kreme is still trying to find its way out of an accounting mess that's kept it from reporting quarterly earnings on time during those two years.
But it's the plummet in sales -- nearly unheard of among established restaurant chains -- that presents the biggest long-term challenge for the maker of the famous "Hot Now" doughnuts.
"I cannot think, over the years, whose trends would have been that bad in such a short period of time," said Robert Derrington, a senior restaurant analyst with Morgan Keegan & Co., which does not own, trade or follow Krispy Kreme shares. "The question becomes, can they turn things around?"
AG wants Grasso to fork over $112 million
ALBANY, N.Y. » New York Attorney General Eliot Spitzer wants former New York Stock Exchange chief Richard Grasso to return nearly $112.2 million from his disputed $187.5 million compensation package for 2003, according to court papers.
Earlier this month, state Supreme Court Justice Charles Ramos ordered Grasso to repay part of the pay and directed Spitzer to calculate the amount.
The judge, who is expected to get Spitzer's recommendation yesterday, will soon rule on it.
Spitzer's total includes $81.5 million in pension payments made to Grasso in September 2003 and $12.3 million in interest on two loans provided to Grasso.
CORRECTION
Tuesday, November 7, 2006
» The Hawaii Inc. column on Page C2 on Oct. 27 and Nov. 3 incorrectly included the name "Tiki's Bar & Grill" in its section on promotions. The establishment's name is "Tiki's Grill & Bar."
---
BUSINESS PULSE