---
FAST FACTS HAWAII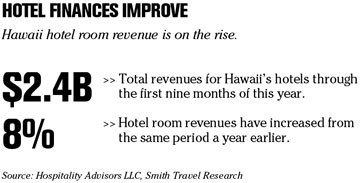 ---
HAWAII
Verizon expands broadband wireless
Verizon Wireless
has expanded its broadband wireless services to Hawaii.
Verizon is the second company to offer Evolution-Data Optimized network, otherwise known as EVDO, in the state. Sprint Hawaii unveiled its own EVDO service late last year.
"We are very excited to launch broadband wireless service in the Hawaiian islands," said Mark Yamauchi, director of Hawaii sales for Verizon. "We have so many tech-savvy customers."
The New Jersey-based company, a joint venture of Verizon Communications and Vodafone, says it invested more than $100 million in its Hawaii network over the last five years as part of a $30 billion nationwide investment in its network.
NATION
MGM to sell 3 casinos for $400M
LAS VEGAS » Casino giant
MGM Mirage Inc.
announced yesterday it intends to sell its three casinos in the southern Nevada town of Primm to
Herbst Gaming Inc.
for $400 million.
The deal would turn over to Herbst the Whiskey Pete's, Primm Valley and Buffalo Bill's hotel-casinos off Interstate 15, about 40 miles south of Las Vegas on the Nevada-California state line.
Three gasoline station-convenience stores and a mini-market were included in the sale of what MGM Mirage refers to as its Primm Valley Resorts. The nearby 36-hole Primm Valley Golf Club, on 573 acres in California, was not included in the transaction.
The properties, totaling 2,644 guest rooms and 136,000 square feet of casino space, were acquired by MGM Mirage as part of the Primadonna Resorts Inc. deal in 1999.
Production of 'Halo' movie delayed
REDMOND, Wash. >>
Microsoft Corp.
has delayed production of a movie based on its popular "Halo" video-game series after two Hollywood studios backed out of a deal to finance the film.
"We deeply regret that both Universal and Fox did not choose to move forward with financing the Halo film under original terms of the agreement," the software maker said in a statement e-mailed yesterday to the Associated Press by Edelman, one of its public relations firms.
Spokespeople from Universal Studios and Twentieth Century Fox declined to comment yesterday.
Under terms of a deal announced in August 2005, Universal Pictures and Twentieth Century Fox were to pay Microsoft $5 million plus a percentage of ticket sales to produce and distribute a "Halo" movie as early as the summer of 2007.
IRS will raise fuel mileage rate
WASHINGTON » The Internal Revenue Service, reflecting rising fuel and vehicle costs, is raising the standard mileage rate used to calculate the deductible costs of driving for business purposes.
The agency said yesterday that as of Jan. 1, 2007, the new rate will be 48.5 cents per mile for business miles driven.
That is the same as the 48.5 cent rate temporarily imposed during the final months of 2005 when gas prices spiked in the wake of Hurricane Katrina. During 2006 the rate was 44.5 cents per mile.
The rate for figuring deductible medical or moving expenses in 2007 will be 20 cents per mile, up from 18 cents in 2006.
Wyndham's profit drops because of higher costs
Wyndham Worldwide Corp.
, the franchiser of hotels including Ramada, Days Inn and Howard Johnson, said third-quarter profit fell 24 percent on higher costs. Revenue in 2007 will be more than some analysts estimated.
Net income decreased to $92 million, or 45 cents a share, from $121 million, or 60 cents, a year earlier, the Parsippany, N.J.-based company said yesterday. Revenue at the company, which franchises more than 6,400 hotels worldwide, gained 10 percent to $1.05 billion.
Costs rose about $25 million from more debt and operational expenses that previously had been the responsibility of former parent Cendant Corp., Chief Executive Officer Stephen Holmes said.
---
BUSINESS PULSE