RAINING CATS AND DOGS ...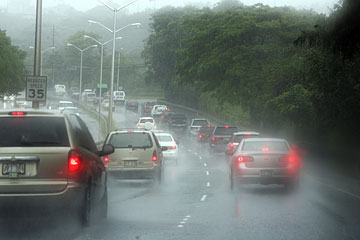 ... YET DRY AS A BONE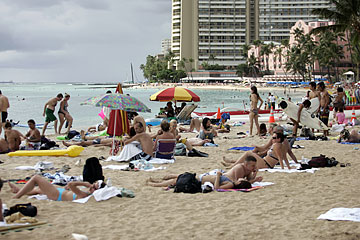 Windward drenched while Leeward side stays dry
Another storm is expected to hit the state tomorrow
Weather forecasters say the islands likely will experience a respite between two relatively unusual storms soaking parts of the state this week.
Yesterday on Windward Oahu, heavy rain -- more than a foot in some areas -- flooded roads and soaked Halloween revelers. But the stalled sheer line left other areas, especially on the Leeward side, dry and sunny.
DELUGE HITS WINDWARD OAHU
Totals cover a 24-hour period ending at 5 p.m. yesterday
| | |
| --- | --- |
| MAUNAWILI | 13.69 in. |
| ST. STEPHEN'S | 8.56 in. |
| LULUKU | 5.49 in. |
| KANEOHE | 4.71 in. |
| OLOMANA | 4.49 in. |
| WAIHEE PUMP | 4.41 in. |
| --- | |
| KAPIOLANI | 0.03 in. |
| MOANALUA | 0.03 in. |
| HAWAII KAI | 0.00 in. |
| ALOHA TOWER | 0.00 in. |
| SCHOFIELD | 0.00 in. |
| POAMOHO | 0.00 in. |
Few problems were reported due to the heavy rain, except for the closure of Kapaa Quarry Road because of flooding yesterday afternoon, Civil Defense officials reported.
National Weather Service hydrologist Kevin Kodama said yesterday afternoon that the stalled areas of rainfall were to slowly dissipate overnight, leaving today drier.
But Kodama said the better conditions are not expected to last too long.
A Kona-type system is expected to form near Kauai tomorrow, moving down the state through the end of the week. The storm is expected to move more quickly than a usual Kona storm, leading to drier conditions by the weekend, Kodama said.
"The way the pattern is it will be in and out in a day or two," Kodama said.
As for yesterday's rain, Kodama said the rainfall was triggered by a number of meteorological conditions leading to "anchored rainfall."
A sheer line stalled just off the Windward coast and provided the moisture. Westerly upper level winds and the terrain on the Windward side provided the rest, leading to localized steady rain for hours, Kodama said.
Elsewhere across the state, Windward areas on Kauai and Maui picked up localized heavy showers for short periods of time, but unlike Oahu, the showers moved out after a few hours.
Rain gauges on Windward Kauai picked up about 3 inches of rain, while gauges in Windward Maui picked up as much as 6 inches of rain from 5 p.m. Monday until 5 p.m. Tuesday.
On Oahu, rain gauges at Maunawili picked up almost 14 inches of rain over the same period, with St. Stephen's picking up 8 1/2 inches, according to the Weather Service.