---
FAST FACTS HAWAII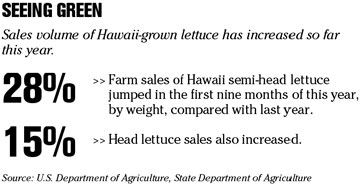 ---
HAWAII
Ret. Gen. Shinseki joins First Hawaiian
First Hawaiian Bank said yesterday it has named retired Gen. Eric Shinseki to its board of directors.
Shinseki, a 38-year career military officer, retired in 2003 as chief of staff, the top uniformed post in the Army.
The Kauai native was the first person of Asian ancestry to lead one of the U.S. military services.
Don Horner, the bank's president and CEO, called Shinseki, a "a man of demonstrated leadership and integrity."
To accommodate Shinseki the bank added a position to its board, which now has 27 members.
First Hawaiian Bank, a subsidiary of BancWest Corp., is Hawaii's largest bank with $11.8 billion in assets.
On assignment
Erika Engle is on assignment. Her column TheBuzz will return tomorrow.
[HAWAII INC.]
NEW JOBS
» Better Business Bureau of Hawaii has hired
Dwight Kealoha
as chief executive officer. He was appointed by the board for his business and service-oriented expertise, as well as his nonprofit experience. Kealoha previously served as vice president of
Kuluku LLC
and
Kuhana Associates LLC
, where he was instrumental in helping develop two new small businesses under the Native Hawaiian Organization program. He also was appointed president and chief executive of the Unity House labor organization when it was placed under court receivership.
» Hawaii-based Dick Pacific Construction has hired Louis DeMaria as vice president of the Micronesia region. He will be based in Guam and oversee all business operations including construction, administration, marketing, business development, estimating, and government and public relations. He previously served as chief of operations for Raytheon Polar Services Co.
» Hawaii Pacific University has hired Charles Steilen as dean of the College of Business Administration, replacing John Kearns, interim dean of business, effective July 1, 2007.
Before then, he will work with Kearns to lay the groundwork on the school's strategic initiatives, including student recruitment, ensuring curriculum is relevant to the business world, and integrating the executives who teach at the school into the college life.
Steilen recently joined HPU as professor of marketing, and he previously served at the Chinese University of Hong Kong.
» Hawaii State Federal Credit Union has announced several new hires and promotions. Scott R. Nahme has been hired as vice president, credit administration. He will oversee day-to-day credit and lending activities.
Elliot Hatico has been hired as vice president, sales and branch operations. He will oversee branch administration and operations, and develop and maintain member sales and service programs.
Joel Kumabe has been hired as chief information officer. He will oversee all aspects of the credit union's information technology, electronic services and card services departments.
Edmund Pang has been hired as chief financial officer. He will direct the accounting and investment functions of the credit union including strategic planning, regulatory compliance and profitability management.
Daniel S. Dick has been hired as consumer loan manager. He will oversee the daily activities of the consumer loan department and loan-servicing center.
Derek Kokubun has been hired as branch manager for the credit union's Windward branch. He previously served as branch manager for HawaiiUSA FCU. Loren Nakaoka has been hired as branch manager for the credit union's Pearlridge and Kapolei branches. Nakaoka previously served as branch manager for Honolulu City & County Employees FCU and HawaiiUSA FCU.
Lorine Akiyoshi has been promoted to branch manager for the credit union's new Mililani Mauka branch. Liberta Lee has been promoted to assistant branch manager of the Mililani Mauka branch. Renee De Lima has been promoted to assistant branch manager for the main Halekauwila branch.
» Outrigger Enterprises Group has hired Lois Shore for the newly created position of vice president of distribution, effective in January. She will spearhead efforts to further improve Outrigger's wide-ranging presence in travel distribution channels. Shore will move to Hawaii from her current position as senior vice president of sales, marketing and public relations for Ensemble Travel Group in New York.
» Hawaiian Airlines has hired Donald Sealey as vice president of corporate audit. He will be responsible for leading the company's internal audit function, including direct oversight of compliance with the Sarbanes-Oxley accounting laws. He previously served as recruiting director for Resources Global Professionals in Indianapolis. Alissa Reiter has been hired as senior director of Internet marketing. She will be responsible for managing HawaiianAirlines.com, which includes increasing business through online marketing and assurance of customer satisfaction. She previously worked in San Francisco as a senior-level manager in developing the Web site of Baby Center, a Johnson & Johnson division.
» Hawaiian Host Inc. has promoted Ahmad Yu to director of quality and innovation from manager of quality and innovation. Pia Angelica Kaina has been hired as quality assurance supervisor. Her responsibilities include maintaining and developing quality systems for all Hawaiian Host processing and storage facilities. She previously served as a laboratory technician for Meadow Gold Dairies.
» Rider Hunt Levett & Bailey has hired Noho Kahananui as project administrator. She brings more than 20 years of experience, with expertise in processing submittals, pay applications, job cost accounting, change proposals, and change orders. Wallis "Mac" McCoy has been hired as project manager. He brings 30 years of experience, with expertise in budget management, contract administration, strategic planning, process re-engineering and operations oversight.
---
NATION
Court blocks tobacco ruling
WASHINGTON » A federal appeals court blocked a landmark judgment against the tobacco industry yesterday, allowing the companies to continue selling "light" and "low tar" cigarettes until their appeals can be reviewed.
The decision by the U.S. Circuit Court of Appeals for the District of Columbia Circuit also allows the companies to continue for now the advertising campaigns that a federal judge in August ruled were misleading.
Without comment, the appeals court granted the tobacco companies' request to put Judge Gladys Kessler's order on hold.
The companies have argued that her far-reaching ruling could cost them millions of dollars and lead to a loss of customers.
In mid-August, Kessler ruled that the companies had violated racketeering laws and conspired for decades to mislead the public about the health hazards of smoking.
Kessler's ruling was appealed by Philip Morris USA, Lorillard Inc., Brown & Williamson Corp. and British American Tobacco PLC.
Northwest loses $1.18B in quarter
MINNEAPOLIS »
Northwest Airlines Corp.
said that bankruptcy expenses gave it a $1.18 billion third-quarter loss, but that it would have shown a profit without these and other one-time items.
Northwest has been cutting expenses and reducing capacity as it reorganizes, and those efforts began to pay off during the third quarter when the nation's fifth-largest carrier said it would have made $258 million if not for bankruptcy expenses, up from a $309 million loss during the same period last year.
Reduced capacity and wage cuts offset fuel prices that rose 18 percent from the same period last year.
Northwest's loss of $13.50 per share compared with a loss of $475 million, or $5.45 per share, during the same period last year when it filed for bankruptcy protection.
Revenue rose almost 1 percent to $3.41 billion, up from $3.38 billion during the same period last year.
Reorganization expenses totaled $1.43 billion in the quarter.
---
BUSINESS PULSE