---
FAST FACTS HAWAII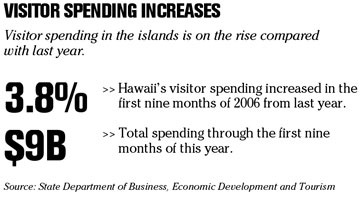 ---
NATION
Tensions rising in Goodyear strike
AKRON, Ohio » The tension surrounding the three-week strike by
Goodyear Tire & Rubber Co.
workers increased yesterday after the tire maker said it was closing its plant in Tyler, Texas.
The fate of the plant and its 1,100 employees had been a key difference in negotiations that have been stalled since more than 12,000 workers in the United States and Canada went on strike Oct. 5.
The United Steelworkers union, which represents Goodyear employees, says it's against the company's plan to close the Texas plant and a factory in Gadsden, Ala. Goodyear has refused to discuss details of its last contract offer but has said it wants the union to help the company be competitive in a global economy.
Goodyear said shuttering the 44-year-old Tyler plant and eliminating the jobs is part of the world's third largest tire maker's strategy to end some of its private label tire business. No closing date was given.
Merck to pay $1.1B for tiny firm
SAN FRANCISCO » Pharmaceutical company
Merck & Co.
said yesterday it agreed to pay an eye-popping $1.1 billion to buy
Sirna Therapeutics Inc.
, a tiny biotechnology firm developing drugs based on new technology at the heart of last month's Nobel Prize for medicine award.
Merck's $13-per-share offer for the San Francisco-based company is almost a 102 percent premium over Sirna's closing Nasdaq Stock Market price of $6.45, which fell 5 cents before the bid was made public after the stock markets closed. Sirna's stock surged 98 percent to $12.74 in after-hours trading. The stock's 52-week high is $8.52, set in April.
Merck's stock fell 45 cents to $45.64 at the close of trading on the New York Stock Exchange and remained unchanged in after-hours trading.
U.S. drops bid for Chevron royalties
WASHINGTON » The Interior Department has dropped claims that the
Chevron Corp.
systematically underpaid the government for natural gas produced in the Gulf of Mexico, a decision that could allow energy companies to avoid paying hundreds of millions of dollars in royalties.
The agency had ordered Chevron to pay $6 million in additional royalties but could have sought tens of millions more had it prevailed. The decision also sets a precedent that could make it easier for oil and gas companies to lower the value of what they pump each year from federal property and thus their payments to the government.
Interior officials said yesterday that they had no choice but to drop their order to Chevron because a department appeals board had ruled against auditors in a separate case.
Comair to ask permission to impose cuts on pilots
CINCINNATI >>
Delta Air Lines Inc.
subsidiary Comair said yesterday it plans to ask a bankruptcy court this week to allow it to impose contract concessions on pilots if the two sides cannot reach an agreement.
Comair, based in Erlanger, Ky., says it needs labor concessions to emerge from Chapter 11 bankruptcy filed last year, when Delta also filed for bankruptcy. The airline is seeking cuts from the pilots of $15.8 million in pay, and benefits changes, Comair spokeswoman Kate Marx said.
Paul Denke, a spokesman for the Air Line Pilots Association, which represents some 1,500 pilots, said the timing of the announcement during negotiations shows ill will toward the pilots and other employees.
The two sides are scheduled to meet again today.
---
BUSINESS PULSE