---
FAST FACTS HAWAII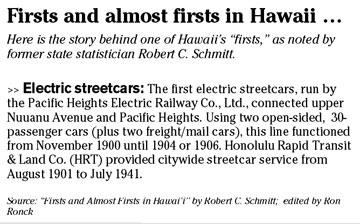 ---
NATION


Work absenteeism highest in 7 years

RIVERWOODS, Ill. » Skipping work without good reason? You have lots of company.

Unscheduled absenteeism at U.S. companies and organizations has climbed to its highest level since 1999, according to results of an annual nationwide survey of human resource executives in U.S. companies and organizations.

The survey, conducted for CCH Inc. by the Harris Interactive consulting firm, put the U.S. absenteeism rate at 2.5 percent in 2006, up from 2.3 percent a year ago and the highest since seven years ago when it was 2.7 percent.

It found that personal illness accounts for only 35 percent of unscheduled absences, with the rest due to family issues (24 percent), personal needs (18 percent), stress (12 percent) and entitlement mentality (11 percent).

Regardless of the reason, the trend is costly for U.S. companies. CCH, which provides human resources and employment law information and services for businesses, said absenteeism costs some large employers an estimated $850,000 per year.

CCH said companies with low morale also have more ill workers showing up for work.
Get credit for your early overtime
If you'd rather see the sun rise than set when you put in overtime, make sure that your boss knows about your early hours, advises one executive from
Spherion
, a recruiting and staffing company.
"Despite the fact that putting in the extra time may lead to greater productivity, workplace early birds don't always reap the same rewards, promotions or acknowledgments for their efforts," said Nancy Halverson, vice president of talent management at Spherion. "It's true that more notice is taken of people who work late than of those who come in early."
Halverson offers the following tips:
» Time stamp: Send an e-mail to your boss when you're working the morning hours to clue him in on your overtime preferences. Make sure the e-mails address the progress you're making on your work so the boss knows you're not slacking during the off-hours.
» Leave hints: Ask your supervisor if you need special keys or a security code to access the office during off-hours.
» If all else fails: Let your boss know that you've been putting in extra hours before he even arrives at work. Lay out what you have accomplished during the overtime.
Managers, employees should chat
Bosses have more control over employee happiness than productivity -- at least according to their staff, a recent survey found.
While 56 percent of American workers said that their supervisors have a direct impact on their work-life happiness, less than half believe their bosses influence productivity.
Baby boomers were more likely to report that bosses had a strong impact on their daily lives than their Generation Y counterparts, and men were more likely than females to say that bosses directly affect their work performance.
Addeco North America, a work force solutions company, offers the following tips for managers and employees to improve relations:
» Chat it up: Don't rely on preconceived notions about each other. Get to know each at the office coffee maker or by the watercooler.
» Stay open-minded: Younger workers may want to try newer approaches, while older supervisors may prefer time-tested methods. Learn from each other.
» Two-way street: While managers are used to giving employee reviews, they should also encourage employees to offer feedback on their performance.
Addeco surveyed 573 employed adults by telephone in September.
---
BUSINESS PULSE