BOARD OF EDUCATION
Ballot offers scant choice for change
Anyone hoping for an infusion of fresh political blood that will take the state Board of Education in a new direction is likely to be disappointed once this election is over.
The leading vote-pullers in the primary elections were John Penebacker and Donna Ikeda, both former members of the board who now have pole position to reclaim their seats.
Also making it to the general election, which will elect five members, were Terrance Tom and Brian Yamane, both former Democratic state legislators like Ikeda, and incumbent Karen Knudsen.
But don't knock experience, says Ikeda, who feels political relationships can and should be called on to help schools. "The board has never really established a good working relationship with the Legislature or (Lingle) administration. That has to happen," she said.
Penebacker, a former UH basketball star and longtime administrator of the state library system, earned 93,111 primary votes in the race for the Windward Oahu seat. That is nearly four times as many as his nearest competitor, 24-year-old Kris DeRego, whom he will face in the general election.
Ikeda topped a crowded field of 17 candidates seeking three Oahu at-large seats, pulling 78,208 votes, Knudsen was next with 69,303, followed by Tom (41,232) and Yamane (35,742).
ALL FOR THE STUDENTS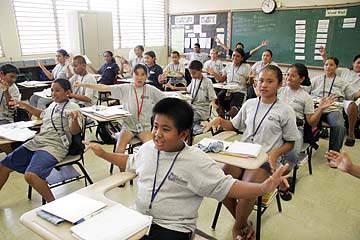 Rounding out the list of six Oahu at-large candidates were civil rights attorney Kim Coco Iwamoto and incumbent Darwin Ching. The top three vote-getters will win seats.
School safety has emerged as a key issue, with Penebacker advocating tough policy measures to remove troublemakers from the general school population, while Ching chairs a committee studying the safety question.
Iwamoto, meanwhile, serves on a Department of Education task force that is assessing bullying and harassment in schools.
In the Central Oahu race, incumbent Shirley Robinson faces Eileen Clarke.
If Ching loses, he will be the second recent appointee by Gov. Linda Lingle, a harsh critic of the state school system, to be swept out. Current Windward seat-holder Paul Vierling, another appointee, lost in the primaries.
Ching equated electing his opponents to "insanity."
"A friend said to me that insanity is doing the same thing over and over and getting the same result. So why would you want three former legislators back in there when it was on their watch that a lot of the school system's problems started?" he said.