STATE LEGISLATURE
Winners could determine leadership
With no incumbents running, a shift in power is possible
Eleven vacant seats are up for grabs in the state Legislature -- two in the Senate and nine in the House -- with no incumbent running for re-election.
And while Democrats are still expected to stay in the majority, the winners of the races could help decide whether the current leadership in the House and Senate remain.
Senate President Robert Bunda is not up for re-election, but his support in the primary for failed candidate Jan Yagi Buen against incumbent Democratic Sen. Shan Tsutsui has the leaders of other Senate factions looking at the possibility of a change in leadership.
Two Senate races could help determine whether change is in the offing.
The vacancy created by the departure of Democratic Sen. Brian Kanno, a Bunda supporter, from his West Oahu District 19 seat, which includes Kapolei, is leaving open the possibility that a Republican could take the seat.
That Republican is former City Councilman Mike Gabbard, who is up against Democrat George Yamamoto, a member of the Makakilo/Kapolei/Honokai Hale Neighborhood Board.
FUTURE SENATORS?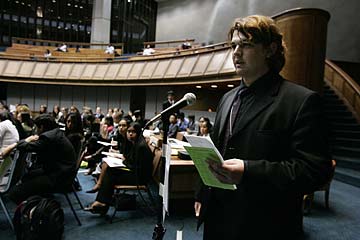 In Windward Oahu, Republican Sen. Bob Hogue's 2nd Congressional District bid resulted in a District 24 seat with no incumbent.
Hogue's former aide, Republican Keoki Leong, is running against Democrat Jill Tokuda, a former Hawaii Democratic Party executive director and aide to former Lt. Gov. Mazie Hirono, who is Hogue's congressional opponent.
In the House, Speaker Calvin Say is expected to survive his re-election bid against Republican Julia Allen, whose husband questioned whether Say lives in the 20th District he represents, an allegation that Say has said election officials have ruled in his favor more than once.
But whether Say, who successfully withstood a leadership challenge two years ago, keeps the top spot in the House could depend on who wins several contested House races, since a number of his supporters are retiring from office and Republicans could pick up a seat or two.
Some of the matchups include Republican Tracy Okubo's try again for the District 25 seat, but this time not against incumbent Democratic state Rep. Brian Schatz, who decided against running for re-election to run for Congress. Her opponent is attorney and former Campaign Spending Commission member Della Au Belatti.
In another race, Democrat Karl Rhoads beat primary opponent and controversial state Rep. Bev Harbin, who was appointed to the post by Gov. Linda Lingle. Harbin did not tell the governor about her criminal record and owed back taxes.
Rhoads, a member of the Downtown Neighborhood Board, next meets Republican Collin Wong, who previously ran for the same District 28 seat when it was held by former Democratic state Rep. Ken Hiraki.