---
FAST FACTS HAWAII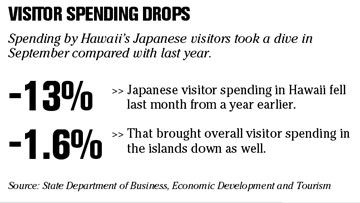 ---
HAWAII


Hoku switches suppliers for plant's solar cells Hoku Scientific Inc.

has switched suppliers for solar cells to be used in its planned Idaho photovoltaic-module plant.

Hoku had entered into a $2.8 million agreement to buy solar cells from Swiss Wafers AG, but terminated that deal because Swiss Wafers was unable to acquire the type of solar cells that Hoku wanted, according to a filing yesterday with the Securities and Exchange Commission.

Hoku now has a similar agreement for the same amount with Taiwan-based E-Ton Solar Tech Co. Ltd. The cells are scheduled to be delivered later this year.

Hoku, a Kapolei-based developer of fuel-cell components that has branched out into solar-energy products, said the termination of the Swiss Wafers agreement resulted in no penalty fees for either company.
NATION


Chrysler bringing in outsiders to create recovery program

In an effort to get Chrysler back on track after an alarming $1.5 billion third-quarter loss,

DaimlerChrysler AG

has retained its longtime consultants

McKinsey & Co.

to help Chrysler's management draft a recovery program.

Careers and reputations on both sides of the Atlantic -- possibly even Chrysler's future -- ride on the success of the plan, which DaimlerChrysler CEO Dieter Zetsche expects on his desk before the end of the year.

Chrysler CEO Tom LaSorda is leading the teams drafting the plan, but parent DaimlerChrysler brought in reinforcements last month from Mercedes-Benz and this month from McKinsey, a prestigious management-consulting firm.

"That's rather strong medicine for the Chrysler management to swallow, to be told they can't handle their business by themselves," Gerald Meyers, a University of Michigan business professor and former chairman of American Motors Corp., said yesterday.
Dow Jones will sell 6 papers for $282 million
NEW YORK »
Dow Jones & Co.
announced yesterday that it had reached a definitive agreement to sell six of its community newspapers to
Community Newspaper Holdings Inc.
for $282.5 million.
The company said that proceeds from the sale would be used to fund a recently announced Factiva acquisition and to pay down debt.
The six papers to be sold are the News-Times of Danbury, Conn.; the Daily Star of Oneonta, N.Y.; the Press-Republican of Plattsburgh, N.Y.; the Santa Cruz Sentinel of Santa Cruz, Calif.; the Daily Item of Sunbury, Pa., and the Traverse City Record-Eagle of Traverse City, Mich.
Dow Jones said it expects the transaction to close in the fourth quarter. After the sale, its Ottaway group will publish eight daily and 15 weekly newspapers in seven states wit a combined daily print circulation of 282,000.
Jury orders Vons to pay $18 million
LOS ANGELES » A jury has ordered the
Vons Companies Inc.
to pay more than $18 million in damages to a former employee who claimed the supermarket chain fired him after he filed a report accusing a female supervisor of sexual harassment.
The Simi Valley, Calif., jury awarded more than $16 million in punitive damages to James Stevens yesterday, two days after ordering Vons to pay the one-time inventory clerk $1.7 million for economic loss and emotional distress, said attorney Gloria Allred, who represented Stevens.
Stevens, a Ventura County resident who worked for Vons for 25 years, was fired in May 2004. He sued the company that November.
Nonprofit slams home valuations
Zillow.com
has landed in the hot seat over claims that its home-valuation tool is inaccurate.
The National Community Reinvestment Coalition, a Washington, D.C.-based nonprofit that promotes equal access to credit and capital for underserved communities, filed a 12-page complaint against Zillow on Wednesday with the Federal Trade Commission.
It says that Zillow's valuation "mechanism is highly inaccurate and misleading to consumers." The complaint seeks immediate action from the FTC to stop Zillow from engaging in activities that it says deceive consumers.
The NCRC also notes -- citing its own audit -- that Zillow is off the mark with its home value estimates more than two-thirds of the time.
Seattle-based Zillow, which is backed with $57 million in venture capital and unveiled its home-valuation Web site eight months ago, called the allegations groundless.
WORLD


Shell-led project may face criminal case

MOSCOW » Russian prosecutors said yesterday they may launch a criminal case over alleged environmental violations at a giant

Shell

-led energy project as officials crank up the pressure at the troubled multibillion-dollar development.

"The Prosecutor General's Office plans to inspect materials provided by the Natural Resource Ministry on ecological violations during the Sakhalin-2 project," prosecution spokesman Konstantin Nikonov said. "If there are sufficient grounds after this inspection, a criminal case will be opened."

After a visit to the Pacific island of Sakhalin in Russia's Far East to inspect the liquefied natural gas development, Natural Resources Minister Yuri Trutnev said Wednesday that the project violated five articles of the criminal code.

He said the documents would be sent to prosecutors in two weeks and they would determine whether Sakhalin Energy, the consortium operating the project, or its contractors were to blame. "I believe that the company is working disgracefully on the island," Trutnev said at a news conference.
Deal would create materials giant
MEXICO CITY » The Mexican cement giant
Cemex
said yesterday that it had made an unsolicited bid of $12.8 billion for the
Rinker Group
of Australia. The deal would create one of the world's largest construction materials companies.
If the transaction goes through, it would also strengthen Cemex's leading position in the U.S. housing market, particularly in Sun Belt states like Florida and Arizona. Eighty percent of Rinker's sales come from the United States.
The acquisition would be the largest ever by a Mexican company. Over the last 15 years, Cemex's chairman, Lorenzo Zambrano, has transformed his company into a multinational company with operations on five continents. Sales last year reached $15.3 billion.
The global cement and construction materials industry has been consolidating over the last few years as giants like Lafarge of France, Holcim of Switzerland and Cemex have sought to grow through acquisitions.
---
BUSINESS PULSE