Hard Rock hosts 'Rocktoberfest' finale in Waikiki
THE HARD ROCK CAFE wraps up its global "Rocktoberfest" celebration this week, with a special concert in Waikiki on Friday.
"Oriah at the Rock" kicks off at 8:30 p.m. with live entertainment by the Ahu'ulu Boys, and a costume contest is planned for those who just can't wait for Halloween to get dressed up. The party is also a fundraiser for breast cancer research, with a portion of the evening's $12 cover going to the Dr. Susan Love Research Foundation.
Another way to help support the cause is to buy one of the Hard Rock's limited edition breast cancer awareness pins, available for purchase during regular business hours at the restaurant ...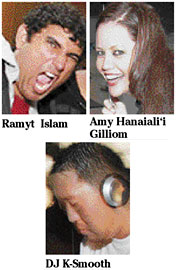 THE CLUB CROWD will be happy to hear yet another new venue is getting ready to open in Honolulu.
I'm told the soft opening for Lotus will take place sometime during the next few weeks, with a grand opening celebration tentatively scheduled for January. Located on Kuhio Avenue in Waikiki, the club is housed in a two-story building and will eventually open as a restaurant during the day once everything is up and running smoothly.
With Ramyt Islam and Paul Shih helping to make Lotus a reality, house music fans can rest easy knowing that they'll soon have a new weekend destination for quality sound. A custom system was recently installed by sound engineer Craig "Shorty" Bernabeu, and I've heard it's scary how good the setup sounds ...
LOCAL COMEDIAN Augie Tulba continues his "Comedy in the Community" tour, with a performance Friday at McKinley High School.
Once again, he'll be joined by Champ Kaneshiro, Jose Dynamite and Timmy Mattos. Tickets are $10, with the proceeds going to Tulba's Speak the Dream Foundation. Doors open at 7 p.m. ...
ALSO ON Friday, Amy Hanaiali'i Gilliom returns to the Hawaii Theatre to headline "Generation Hawaii" at 8 p.m. The Na Hoku Hanohano Award-winning singer will be joined by Kealii Kanealii.
Tickets for the concert are $33. Call 528-0506 ...
THE MONTHLY underground hip-hop party "Wormwood" returns to Detox on Saturday.
As always, the Lightsleepers, Funky4Corners and Soundhouse crews will be on hand, with Big Mox and Nabahe sharing the hosting duties. StanStill will be there to showcase his artistic skills.
This month's special guests are the Visonaries' 2Mex and the Shapeshifters' L.A. Jae; Okwerdz, L.O.R.D. and Triune will represent the 808 state. Doors open at 9 p.m. on Saturday, with a $12 cover in effect ...
AND ON Sunday, the "Bacardi Summer Pool Party" returns to the Sheraton Waikiki.
The fun starts at 1 p.m. with DJs KSM, RacerX, Jedi, K-Smooth, Sub-Zero and Mr. Brown. San Francisco's DJ Mei Lwun will also make an appearance.
This was supposed to be the last pool party of 2006, but promoters SKYLiNE Two and Partymasters Hawaii have added one more on Nov. 12, due to the power outage caused by the earthquake on Oct. 15 that forced them to cancel ...