---
FAST FACTS HAWAII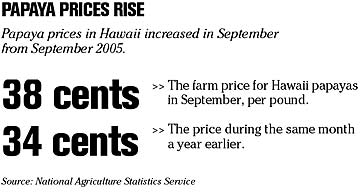 ---
HAWAII
Workers' comp costs are coming down
Hawaii's cost of workers' compensation has dropped from third to 15th highest in the nation this year, according to the state Department of Labor and Industrial Relations. The agency cited the ranking yesterday from an annual report compiled by the state of Oregon.
Workers' compensation premiums in the islands dropped to their lowest prices since 2003 for employers insured through the state's largest carrier, Hawaii Employer Mutual Insurance Company, the department said.
HEMIC-insured Hawaii businesses paid an average of $5.36 for every $100 of payroll for worker's comp in 2003. In 2006, those businesses are paying an average of $4.49 for every $100 of payroll.
"This drop in premium rates is good news for Hawaii employees and employers," said DLIR director Nelson B. Befitel. "However, our job is not done. We will continue to improve Hawaii's workers' compensation system to ensure prompt, quality medical care and a fair and efficient resolution process."
Central Pacific declares dividend
Central Pacific Financial Corp.
, which this week posted a 14.5 percent increase in third-quarter earnings, said yesterday its board of directors has declared a quarterly dividend of 23 cents a share that will be payable Dec. 15 to shareholders of record as of Nov. 17.
The dividend, raised to 23 cents from 21 cents in the previous quarter, has an annualized yield of 2.5 percent.
A&B maintains quarterly dividend
Alexander & Baldwin Inc.
said yesterday its board of directors has maintained its quarterly dividend at 25 cents a share. It will be payable Dec. 7 to shareholders of record as of Nov. 9.
The parent of Matson Navigation Co. has kept its dividend at 25 cents for three quarters after raising it to that level from 22.5 cents earlier this year, the first dividend increase by A&B since 1998. A&B's dividend equates to an annualized yield of 2.2 percent.
[HAWAII INC.]
PROMOTIONS
»
MW Group Ltd.
has promoted
Raynard L. Marquina
to Pioneer Plaza property manager. He will oversee the management and daily operations of the building, including tenant relations and retention, and budget preparations and reconciliation. Marquina first worked with MW Group as a contractor and was later hired as an employee.
» Tiki's Grill & Bar* has promoted Ronald Viloria to executive chef from pastry chef. In addition to overseeing the entire culinary aspect of the restaurant, he will be responsible for maintaining food quality and consistency, menu planning, hiring and training. Viloria previously served as pastry chef at Pacific Beach Hotel when he moved to Hawaii in 2001 from Guam.
>> First Hawaiian Bank has announced the following new hires and promotions: May C. Nishijima has been promoted to assistant vice president. She is branch manager at the Kaneohe branch. Grace C. Cobb has been promoted to assistant vice president and personal banking officer at the Kalihi branch. She serves as the financial advocate for personal and private banking customers within various departments of the bank. Claire S. Sholes has been promoted to assistant vice president, wealth management service center. She will be responsible for data management within the group. Jon Fukugawa has ben hired as vice president in the commercial real estate division. He will be responsible for generating and maintaining commercial development and income property loans. James S. Kaneshiro has been promoted to assistant vice president, branch support division. He is the project manager responsible for information technology system implementation and has held several positions in the bank since 1994. Carla M. Manglallan has been promoted to service manager, Haleiwa branch. She has held several positions in the bank since 1976. Anne Y. Meyers has been promoted to business systems officer, retail information and planning department. She is responsible for the bank's customer information system. Jenny S. Yee has been promoted to personal banking officer, Kapiolani banking region. She will be responsible for client retention and servicing.
ON THE BOARD
» The Entrepreneurs Foundation of Hawaii has announced the following new members for its board of directors:
Jerry E. Rauckhorst
, chief executive officer of Catholic Charities of Hawaii; and
Jan Naoe Sullivan
, executive vice president/chief operating officer of
Oceanit
, a local science and engineering company. The nonprofit organization promotes community involvement and philanthropy in entrepreneurial companies.
---
NATION
Drilling boom comes to Forth Worth
FORT WORTH, Texas » Boston had the Big Dig. Now Fort Worth has the big drill.
Under golf courses, schools, parks, libraries, airports and dozens of neighborhoods, some of the nation's leading independent energy companies are scouring the city in search of the best locations to recover one of the largest concentrations of natural gas in the United States.
Everyone seems to be lining up for a share in the bonanza. The American Cancer Society recently made $5 million just by selling its mineral rights to land that had been donated years ago. The Girl Scouts leased their mineral rights for drilling under a summer camp for an undisclosed amount.
It is a replay of sorts of the oil drilling booms that roused and remade Los Angeles and Oklahoma City in the 1920s and 1930s. And with rigs lit up like Christmas trees on the city's periphery at night, it is the biggest urban drilling boom in the nation today.
WORLD
China bank's shares jump in IPO
Industrial & Commercial Bank of China Ltd.
's shares surged on their debut in the biggest-ever initial public offering, increasing the market value by about $11 billion to make it the world's fifth-largest bank.
ICBC's shares that trade in Hong Kong rose 15 percent. Its Shanghai shares also gained.
Hong Kong billionaire Li Ka-shing was among investors who ordered more than $500 billion of stock in the Beijing-based bank, or 26 times what was on offer. They're betting ICBC's customer base, bigger than Russia's population, will maximize profit growth in the fastest-growing major economy.
ICBC may have the second-best debut among the five Chinese banks that have sold shares in Hong Kong. China Merchants Bank Co. rose 25 percent on its first trading day last month. Bank of China had a 15 percent gain on its debut, while Bank of Communications increased 13 percent.
CORRECTION
Tuesday, November 7, 2006
» The Hawaii Inc. column on Page C2 on Oct. 27 and Nov. 3 incorrectly included the name "Tiki's Bar & Grill" in its section on promotions. The establishment's name is "Tiki's Grill & Bar."
---
BUSINESS PULSE