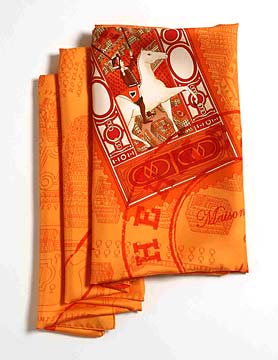 Shown above is the Hermès World Festival 2006 exclusive scarf.
'World Festival' returns to Ala Moana
The Hermès store at Ala Moana Center will host a week-long celebration of color and craftsmanship with scarf printing demonstrations to coincide with the center's World Festival -- Hawaii's Fashion Week.
Guests will be able to watch craftsmen from the Hermès atelier in Lyons, France, at work printing "Passage a Paris," an exclusive design created to commemorate the 2006 World Festival, at 2, 4 and 7 p.m. daily from Monday through Nov. 4.
The limited-edition collectible scarf is of vibrant orange and melon, interpreting a French envelope with "World Festival 2006" printed inside the postmark to mark the occasion. The scarf will be available at both the Ala Moana and Waikiki Hermès stores for $320.
The event is one of many taking place during the World Festival, with the center's luxury retailers unveiling limited-edition designer handbags and accessories exclusive to Hawaii.
Here are more highlights:
» World Festival "Fashion Showcase": Fashion show of World Festival exclusive merchandise, fashion and a special appearance by one of Japan's top models, Shiho, will highlight this event, also featuring Steve Kemble from "Whose Wedding Is It Anyway?" At 2:30 p.m. Nov. 2 on CenterStage.
» Dior: "Show Artist" Thuy Pham will conduct in-store makeovers by appointment only from 11 a.m. to 5 p.m. Nov. 2 and 3. Call 943-6900. The boutique also unveils its Cruise/ Spring 2007 collection during a runway show at 4 p.m. Nov. 4, featuring guest model Shiho.
» Louis Vuitton: You're the designer during a "special order" exhibition open daily from Monday through Nov. 5. A master craftsman and sketch artist will assist those interested in creating their own made-to-order design. Also shown will be pieces from the Museum of Heritage in Asnières, France.
» M.A.C Cosmetics: Holiday Collection launch includes the exclusive M.A.C Silverette ($90), a metallic silver overnight makeup case. Only 100 cases will be available. Three of M.A.C's global artists -- Gregory Arlt, Louise Zizzo and Victor Cembellin -- will be giving demonstrations at 6:30 p.m. Nov. 1 and 3:30 p.m. Nov. 2 on Ala Moana's CenterStage, and in-store by appointment only from 1 to 7 p.m. Nov. 3 and 4. Call 955-0356 for appointments.
» Sephora: Bare Escentuals founder Leslie Blodgett, and her team of makeup artists, make a return Hawaii appearance from 5:30 to 6:30 p.m. Nov. 2 and 11 a.m. to 6 p.m. Nov. 3 for demonstrations of i.d. bareMinerals, with new colors to enhance Asian skin. Call 944-9797 for an appointment.
» Folli Follie: Enter to win a $500 "Crazy Folli" shopping spree for jewelry, watches and accessories by visiting the store from Monday through Nov. 5 (one entry per person).
» Lacoste: Will present a fashion show at 4 p.m. Nov. 3 on CenterStage, in partnership with Vogue magazine.
Visit www.AlaMoanaCenter. com/worldfestival or call 955-9517 for more information.