---
FAST FACTS HAWAII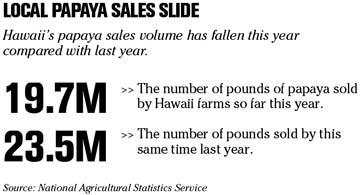 ---
HAWAII
Central Pacific gets downgrade
Central Pacific Financial Corp.
, which reported a 14.5 percent increase in third-quarter net income on Tuesday, was downgraded to "market perform" from "outperform" yesterday by analyst Frederick Cannon of San Francisco-based
Keefe, Bruyette & Woods
. Cannon's target price is $40.
NATION
UAL pilots lose out on $1 billion claim
Retired United Airlines pilots lost a bid to reopen the company's reorganization plan when the U.S. Court of Appeals in Chicago rejected their $1 billion retirement benefits claim.
A three-judge panel rejected as "fantastic" the retired pilots' argument that their claim should have been treated by a federal bankruptcy court with the same regard as that of active-duty pilots who got $550 million in convertible notes and a new pension plan when parent company UAL Corp. emerged from bankruptcy.
"The company remains fragile and a $1 billion hit could send it spinning," U.S. Circuit Judge Richard Posner wrote. Posner faulted the United Retired Pilots Benefit Protection Association for failing to seek a court-ordered stay before the reorganization plan took effect.
22% to shop all the way to the end
WHITE PLAINS, N.Y. » It's almost Halloween; how's your Christmas shopping coming?
A poll released last night by Consumer Reports found that 29 percent of Americans have already bought some of their holiday gifts and 49 percent expect to be done by the second week of December.
On the other hand, 22 percent said they'll still be at it on Christmas Eve.
If those procrastinators thinking about gift cards -- representing, for example, $25 or $50 in credit at a store, a chain or a mall -- they might want to reconsider, Consumer Reports said. Although half of all respondents said they received gift cards last year, 19 percent of the recipients said they hadn't used them.
Israeli firm offers to rebuild Mills
COLLEGE PARK, Md. » An Israeli real estate investment firm said yesterday it has offered to invest up to $1.2 billion to rebuild struggling mall developer
Mills Corp.
, saying the company should not go ahead with plans to offer itself up for sale.
Gazit-Globe Ltd. said it has acquired 9 percent of Mills' shares. The firm, Israel's largest real estate investment company, said it wants Mills' board of directors to agree to recapitalize and not go ahead with plans to sell all or part of the company.
Asia gets discounted long-haul flights
Oasis Hong Kong Airlines Ltd.
said its first budget flight to London will take off today, 24 hours late, after it received permission to fly over Russia.
Asia's first long-haul discount carrier said a "last-minute change" by Russian authorities prevented the flight from taking off yesterday.
Oasis offered compensation and accommodation yesterday to the more than 300 passengers who bought tickets for its maiden flight. The passengers waited at Hong Kong's airport for more than five hours for the flight to leave.
The airline sells one-way tickets to London from $128, excluding taxes and surcharges. It is competing against Cathay Pacific Airways Ltd., British Airways PLC and other carriers that offer at least nine flights a day between Hong Kong and London Heathrow.
In other news ...
Clear Channel Communications Inc.
, the largest U.S. radio broadcaster, is considering a possible sale of the company and hired
Goldman, Sachs & Co.
as an adviser. The shares jumped 5.9 percent in extended trading. The board, controlled by the Mays family, is evaluating alternatives to increase the share price.
---
BUSINESS PULSE