Cooking with Nintendo
With "Mama" in charge, the pastime is anything but leisurely
NO, THE TITLE of this "E for Everyone" game doesn't refer to incestuous cannibalism, but to the freakishly no-nose bobblehead "Cooking Mama" character who teaches you to cook via Nintendo DS minigames.
Norman Bates' momma has nothing on Cooking Mama's demanding nature. I spent my first three minutes with the game spilling rice, burning eggs and not quite slicing tofu correctly.
"Cooking Mama" (for Nintendo DS, rated E)
3 stars? forks? eggs? out of 5
"Don't worry, Mama will fix it," proclaimed Mama at every failure, her eyes lit up like gasoline-fueled bonfires. Not very reassuring. If you are familiar with Japanese manga style, you'll recognize this as a stylized representation of
moeru kokoro
(fiery spirit). Otherwise it's just plain disturbing.
As with any new recipe, reading the instructions at the beginning of each minigame is essential. It was more fun to screw up and watch the animations, though.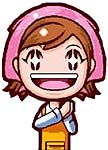 With all the blinking icons, arrows, words floating by and hands pointing, it can be difficult to follow along within the game's strict time limits. Each dish takes less time than it does to boil an egg. Don't expect to learn kitchen safety in the mad rush to finish.
THREE game categories are available. The main type is called "Let's Cook," where you make simple dishes. As you advance, you can mix two dishes in "Let's Combine." If you enjoy chopping or breaking eggs, you can hone your abilities in "Use Skill."
There is no multiplayer mode, however. The closest you can get is under Options > Send Demo. This function will send a single recipe over to another Nintendo DS unit. My copy appears to only send "Salisbury Steak."
You start with 15 recipes. Every time you try one, no matter how good or bad you do, you unlock another one -- which may or may not have anything to do with what you've just made.
Some of the gameplay is frustrating.

When peeling, for instance, slow, deliberate movements are better, otherwise the touch screen may not register. It's annoying when the smallest smidgen of potato skin is left but you can't see it, so you randomly peel, hoping to get that last bit.
You'll definitely need Practice Mode, an option on all dishes, to figure out what the game developers don't explain, and what they hope you'll pick up intuitively.
THE WEIRDEST minigame is probably where you have to wiggle the root tips off the ends of yellow bean sprouts. I guess that's how it's done in Japan.
If you only have 5 or 10 minutes here and there to game or if you liked "Warioware," you'll probably like "Cooking Mama," too.
Despite some problems, at $19.99, "Cooking Mama" is at a good price point for casual and beginner gamers young and old, especially those who enjoy domestic duties and Food TV.
It takes a few tries to figure out what to do, but you'll soon be slicing, dicing and even making instant ramen with your DS stylus. Now if you'll excuse me, I'll be off trying to peel that potato again.