---
FAST FACTS HAWAII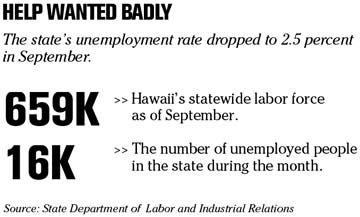 ---
HAWAII
Hawaii gained 700 tech jobs in 2005
The number of technology jobs in Hawaii increased 5.4 percent last year, reversing several years of decline, according to a report released yesterday by the state Department of Business, Economic Development & Tourism.
The technology sector added 700 jobs last year, bringing total industry jobs to an estimated 13,813, the report said. Jobs in technology manufacturing posted the largest gain, 17.1 percent year-over-year. Technology research-and-development jobs grew by 9.3 percent and technology services grew by 4.1 percent.
Scientific and technological research and development activity has been the most significant growth area of high tech in Hawaii over the last four years, with a robust 36.1 percent increase in jobs from 2001 to 2005, said DBEDT's director, Ted Liu. This is nearly four times the rate of growth in total private sector employment during the same period, he said.
Last year, research and development jobs comprised about 19 percent, or 2,600, of Hawaii's tech sector, and employees working in this field averaged $56,942 in wages.
There were 1,115 establishments in Hawaii's private technology sector during 2005. The average wage for the sector was $57,458 in 2005.
Farmers win agricultural awards
A hydroponic tomato farm on the Big Island and a North Shore purveyor of kukui nut and macadamia nut products are among the winners of this year's Hawaii Agriculture Awards.
The awards will be presented during a luncheon Thursday at Hilton Hawaiian Village.
Among the general selection criteria were: the sustainability of operation, capacity for expansion or continued improvements, innovation and creativity.
The winners are:
» Outstanding Agriculture Operation: Hamakua Springs Country Farms, Big Island (Richard and June Ha) and FAT Law's Farm Inc., Ewa Beach (Tim, Alice and Frank Law);
» New Farm Operation: Alii Kula Lavender, Kula, Maui (Alii Chang, Lani Weigert and Marseu Simpson)
» Innovative Value Added Product: Oils of Aloha, Waialua (Dana and Barbara Gray)
» Friend of Agriculture: Derek Kurisu, executive vice president for perishable operations, KTA.
On assignment
Erika Engle is on assignment. TheBuzz will return tomorrow.
NATION
IBM accuses Amazon of infringing
BOSTON »
IBM Corp.
alleged in two lawsuits yesterday that important components of Amazon.com Inc.'s massive retailing Web site were developed and patented many years earlier at IBM.
Amazon, which this year will sell $10 billion worth of everything from books and CDs to pet supplies and jewelry, is accused of infringing on five IBM patents. IBM says the technologies covered by the patents govern how the site recommends products to customers, serves up advertising and stores data.
Judge blocks any Mesaba strike
MINNEAPOLIS » A bankruptcy judge on Monday blocked a strike by unions at
Mesaba Aviation Inc.
, clearing the way for the feeder for
Northwest Airlines Corp.
to impose pay cuts later this week.
Mesaba, which has been reorganizing under bankruptcy protection for a year, had said a strike would probably put it out of business.
Worst may not be over yet for Ford
DEARBORN, Mich. »
Ford Motor Co.
faces more heavy losses well into next year as it races the clock to fix its foundering North American automotive business.
The troubled No. 2 U.S. automaker said yesterday that it lost $5.8 billion in the third quarter after it took a series of massive charges to restructure and downsize its core operations.
But despite posting its worst quarterly loss in 14 years, Ford may have yet to hit bottom. With its vehicle sales plunging and cash dwindling, Ford is bracing for a brutal stretch ahead on its road back to profitability.
"I would sure characterize it as a critical time," Alan Mulally, Ford's chief executive officer, said in an interview with the Detroit News. "It absolutely demands decisive action and a clear focus."
With Ford slashing production of slow-selling SUVs and pickups through the end of the year, company executives conceded Monday that tough financial results will continue through at least mid-2007.
Venture investments jump 11 percent
SAN FRANCISCO » Venture capitalists invested $6.24 billion in startups during the third quarter, putting the industry on course for its busiest year since the dot-com bust.
The July-September volume, spread across 797 deals nationwide, represented an 11 percent increase from $5.63 billion at the same time last year, according to data released Tuesday by PricewaterhouseCoopers, Thomson Financial and the National Venture Capital Association.
It marked the third consecutive quarter in which venture capitalists have invested at least $6 billion -- the biggest burst of activity since the industry was dumping money into startups struggling to survive the dot-com meltdown during 2001 and early 2002.
Wal-Mart, GE to offer Chinese credit card
BEIJING »
Wal-Mart Stores Inc.
and
General Electric Co.
's finance arm are joining the race for a share of China's growing consumer credit market by launching their own credit card this week, a Wal-Mart spokesman said Tuesday.
The card is to be formally launched on Friday but the companies began taking applications yesterday, said Jonathan Dong, a spokesman for Wal-Mart China.
---
BUSINESS PULSE