---
FAST FACTS HAWAII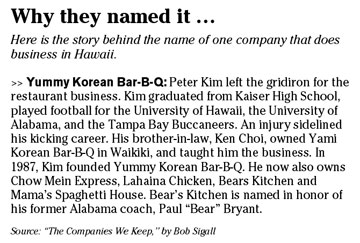 ---
NATION


TV anchor is women's preferred high-profile job

Most women would rather trade places with Katie Couric for a week than with Julia Roberts, according to a recent poll from Ladies' Home Journal.

Given the choice of trying out any high-profile job, 15 percent of women said they'd choose to be a TV news anchor job for a week -- the most common profession chosen. Women over 65 years old were more likely to choose this job than their younger counterparts.

Movie star ranked as the second most popular career with 13 percent. Just over one in 10 would like to run the country, while 6 percent would like to sit in Paula Abdul's seat as a judge on American Idol.

At the office, women are mostly satisfied with their real jobs. Nearly one-third said they love their jobs even though the money isn't great, and 28 percent said they like every aspect of their jobs. Only 2 percent hated everything about their jobs.

When it comes to being recognized, most women would rather win Mom of the Year than the Nobel Peace Prize, an Olympic gold medal or an Academy Award.

Ladies' Home Journal polled 529 women ages 18 and up in June. The full survey results appear in the November issue.
Online resumes subject to ID theft
Prospective employers may not be only ones eyeing your online resume. Identity thieves and other unsavory characters may want to download your personal and professional data.
To keep your online resume from doing any unwanted damage to you or your credit, you need to understand the risks and how to mitigate them. JobKite.com, a job posting Web site, offers the following tips:
» Privacy concerns: Make sure the Web site has a privacy policy so you know how the company will handle your personal data and credit card information (if you're charged for posting). If there's no policy, then you have no legal protection. Pay particular attention to how long the company keeps your resume on file.
» Limit information: No legitimate employer needs your Social Security number, bank account numbers, mother's maiden name or any other identifying information.
» Post smart: Don't post your resume on every site. Instead, seek out sites that are relevant to your career path and are well known. Quality sites, rather than quantity, is the key.
» Leave it out: Omit references from your online resume. If strangers start calling your old boss or best friend, you may find yourself without references before too long.
Most go to work, even if sick
Instead of chicken soup and bed rest, most employees come to work when they're feeling under the weather, one recent survey shows.
A whopping 98 percent of employees admitted going to work when they were sick, according to a poll from Kronos Inc., a work force management company. Two out of five said they did so out of guilt and 39 percent said their workload was too heavy to miss a day.
While these tough employees may impress the boss, their co-workers aren't happy to see them in the office with a fever. Thirty-eight percent of employees are afraid of getting sick when ill colleagues come to work, and another 35 percent blame their employers for not encouraging sick staffers to stay home.
Two-thirds wish the company would create a work environment where calling in sick isn't penalized.
Two out of five want employers to offer onsite flu shots and another quarter would prefer an onsite health care clinic.
Kronos polled 1,120 employed adults ages 18 and over in September.
---
BUSINESS PULSE