| | |
| --- | --- |
| | Newswatch |
---
TRASH OUT, CLEAN IN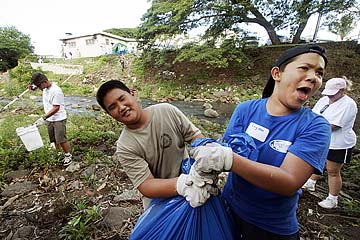 Tradewinds expected to return
The hot, humid weather earlier this month is expected to ease as tradewinds return today after showers this morning, according to the National Weather Service.
A flash-flood watch was expected to remain in effect for Oahu, Kauai and Niihau through this morning because of the chance of thundershowers from a weather system that brought rain to Maui and the Big Island. But the forecast calls for trade winds starting today and sunnier skies through the first half of the week.
On vacation
John Heckathorn is on vacation. "What the Heck?" returns Oct. 29.
| | |
| --- | --- |
| | Police, Fire, Courts |
---
EAST OAHU
Mail carrier dies after driving into post
A 50-year-old mail carrier died yesterday when a lamppost fell on her after she crashed her mail truck into it while making her rounds in Niu Valley.
Witnesses said the delivery truck was seen weaving on Halemaumau Street at about 11:53 a.m. yesterday.
The truck veered off the road and collided into a lamppost, causing the woman to be ejected onto the sidewalk, police said.
The lamppost was sheared by the impact of the crash and landed on the woman, police said.
The Hawaii Kai resident was taken to the Queen's Medical Center with severe head injuries, and was later pronounced dead.
Police believe speed and alcohol were not factors, but medical causes may be considered pending autopsy from the medical examiner.
The woman is the 76th traffic fatality of the year, compared with 60 at this time last year.
Paraglider killed after hitting power lines
A man in his 50s died after paragliding into power lines and falling near Makapuu, according to Bryan Cheplic, a spokesman for Emergency Medical Services.
The accident occurred around 11 a.m. yesterday when the man was making a landing attempt, Cheplic said. He got caught in power lines and fell about 30 feet.
The man was in extremely critical condition when he was taken to the Queen's Medical Center. He was later pronounced dead.
HONOLULU
Man, 20, dies in jump off Kapena Falls
A 20-year-old man died after jumping off Kapena Falls yesterday afternoon, according to Emergency Medical Services spokesman Bryan Cheplic.
The man was swimming with his friends at Kapena Falls at about 12:52 p.m. yesterday when he jumped, several feet off the rocks. The man was taken to the Queen's Medical Center, where he was pronounced dead.
Police arrest 17 in prostitution sweep
Police arrested 17 people on prostitution charges during an apparent sweep Friday night into yesterday morning, including 10 people arrested following raids on massage parlors.
At about 9:50 p.m. Friday, six women from various massage parlors on the second floor of 350 Ward Ave. were arrested on charges of prostitution and massage licensing violations. They ranged in age from 23 to 48, and some listed the business as their home address.
Police also arrested four women in their early 20s from the Evergreen Relaxation massage parlor at 1687 Kapiolani Blvd. on similar charges shortly after midnight.
Police made arrests downtown and in Waikiki Friday night. Five men, ranging in age from 21 to 50, were arrested for prostitution on Nuuanu and Vineyard avenues, Kukui Street and Nuuanu Avenue and on Adams Lane and Hotel Street.
Police also arrested a 29-year-old woman on Adams Lane and Hotel Street and a 35-year-old woman for prostitution in Waikiki near Kaiulani and Kuhio avenues.
Man sought in assault on motorcyclist
Police are looking for a man who attempted to run over another man following a traffic accident Friday night.
At about 10:30 p.m. Friday, a 34-year-old man and the suspect were involved in a traffic accident on Sheridan Street, police said. The victim stepped off his motorcycle and walked toward the suspect's vehicle. The suspect reversed his vehicle a few yards, then drove forward, striking the victim, who sustained minor injuries, according to a police report. The suspect fled down Kapiolani Boulevard.