AGE OF REASON
Vote 'No': Don't amend the state Constitution for political reasons
CONSTITUTIONAL AMENDMENT:
BALLOT QUESTION 3
On Election Day, voters will be asked to vote "yes" or "no" on Constitutional Amendment 3, which reads: "Shall the mandatory retirement age of seventy for all state court justices and judges be repealed?"
Attorney General Mark Bennett and AARP Hawaii director Stuart T.K. Ho argue the pros and cons in essays below.
I URGE HAWAII'S CITIZENS to vote "no" on Constitutional Amendment 3 on the Nov. 7 general election ballot. Since statehood, Hawaii's Constitution has contained a retirement age of 70 for judges. Amendment 3 seeks to repeal that provision. Sitting judges, who knew the rules when appointed and who otherwise would be required to retire -- with the governor appointing their successors -- will remain on the bench, possibly for life, if Amendment 3 passes. I believe this is wrong.
The opposition to Amendment 3 is widespread and bipartisan, and includes Gov. Lingle Lingle and Lt. Gov. James "Duke" Aiona, former Gov. Ben Cayetano, former Attorney General Margery Bronster, the Board of Directors of the Hawaii State Bar Association, the Judicial Selection Commission, which testified against Amendment 3 in the Legislature, all four county prosecutors -- Peter Carlisle, Davelynn Tengan, Jay Kimura and Craig DeCosta -- and many others, including some current and former judges.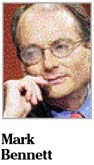 The timing and ease with which this proposed constitutional amendment passed through the Legislature is suspect. Why has this amendment been proposed for the first time now, when according to the Legislative Reference Bureau, no bill to accomplish this was even introduced in the Legislature between 1994 and 2003? A former Hawaii governor, who opposes the amendment, was quoted on television as saying that he believes that this amendment has come about because of the political party of the incumbent governor. Partisan politics is a very bad reason to amend Hawaii's Constitution.
Hawaii should not ignore the collective wisdom of other states. Seventy percent of all states have a judicial retirement age, and 40 have judicial retention or reappointment elections. If this amendment were to pass, Hawaii would have a system like only one other state -- Rhode Island -- with possible life tenure for judges and no judicial elections or retirement age.
Every judge now sitting knew the rules when appointed. We should not change the rules in the middle of judges' terms, especially for political reasons.
MOREOVER, Hawaii unquestionably needs new judicial ideas. Clinging to the current judicial status quo to preserve the jobs of a few judges is poor public policy. As the nonpartisan Judicial Selection Commission testified to the Legislature:
"We fear that this (amendment) will make it far more difficult for current judges to move up to higher judicial positions, will discourage many attorneys from applying for judicial openings, and will therefore impede the introduction of new ideas and ways of looking at the law. Additionally, we feel that this is unfair to all those applicants and judges who made their decisions based on the current rules."
Unfortunately, some who want this amendment adopted have mischaracterized the position of those who oppose it. The Hawaii State Judiciary, for example -- in an official newsletter sent to thousands -- said that opponents of the amendment contend "that some judges are not able to handle the volume and complexity of their caseload efficiently and effectively once they reach age 70." It is unfortunate that the Judiciary, while professing neutrality on the amendment, did not state the real reasons this amendment has generated such widespread bipartisan opposition -- because of the politics involved, because the amendment is unfair and retroactive, because the amendment was hurriedly proposed without any study of alternatives, and because the amendment is just plain bad public policy.
I will be voting "no" on proposed Constitutional Amendment 3. I respectfully ask Hawaii's voters to vote "no" as well.
---
Mark Bennett is Hawaii's attorney general.