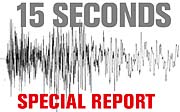 2 historic buildings safe
But the fate of the severely damaged Kalahikiola Church remains uncertain
KAILUA-KONA » Historic Mokuaikaua Church and Hulihee Palace in Kailua-Kona, which were "red tagged" as unsafe, have been declared structurally sound by engineers, but the future of severely damaged Kalahikiola Congregational Church in North Kohala remains uncertain.
$98.4M Big Island damage estimate
By the numbers
Big Island damage estimates as of last night. Numbers do not add up exactly because of rounding. Estimates are likely to increase. Also, there are conflicting estimates on damage to private homes. Here is the breakdown:

$24.6M
Private property
Includes:
$13.8 million: 300 businesses
$10 million: 4 hospitals
$801,000: 31 farms

$73.8M
Public property
Includes:
$3.7 million: buildings
$44.7 million: schools
$10.2 million: roads
$7.5 million: bridges
$2.7 million: water and sewer
$5 million: Kawaihae harbor

Source: Hawaii County Civil Defense
Hulihee, the latest to be marked when building inspectors posted a red card yesterday, had already been verbally declared safe by palace engineers on Wednesday, said David Scott, executive director of Daughters of Hawaii, which leases the building from the state and operates it as a museum. A red tag posted by county inspectors signifies that the building is not fit for occupation.
At Hulihee, Scott said the county inspectors had no reason to know about the earlier private assessment, but the engineers are now hurrying to complete a written report in the hope of getting the building reopened early next week.
The two-story, stone-and-mortar structure on Kailua Bay was completed in 1838 by foreign seamen. It initially served as the home of Big Island governor John Adams Kuakini and later was owned by Princess Ruth Ke'elikolani, who preferred to sleep in a sturdy grass house and used the palace as a guest house. Later owners included King Kalakaua and Prince Jonah Kuhio Kalaniana'ole.
Previous preservation work on the palace included a 1970s concrete foundation and a 1927 "over-engineered" roof that remains stable, Scott said.
But some of the stone work of the second story is leaning inward, requiring dismantling and resetting, he said. That won't prevent visitors, as many as 500 a day, from coming into the large first-floor entrance hall and looking into side rooms, he said.
With cracks in the plaster everywhere, the entire building, inside and out, will have to be replastered, Scott said. The cost will be about $1 million.
Across the street from Hulihee sits Mokuaikaua Church, home of the first Christian congregation established by missionaries, with the current building completed in 1837, one year before Hulihee.
The red tag on the church was removed yesterday, and regular services will be held at 8 and 10:30 a.m. tomorrow, said associate pastor Brian Boshard.
The red tag on the church was issued by an engineer visiting from San Francisco who was not as familiar with the structure as the church's own engineer, Boshard said.
For example, there are cracks in the church walls, but some of them have been there for years, including ones dating from an earthquake in 1929, he said.
The church, like the palace, is built of lava stones and mortar, and each corner of the church consists of a course of huge stone blocks, he said.
The center and roof of the church are held up by thick ohia posts that were cured in the ocean. The salt water made them hard and immune to termites, he said.
In much greater doubt is the massively damaged Kalahikiola Congregational Church in North Kohala.
Dollar estimates of the damage range from $800,000 to $3 million. Just to install supports to hold up the roof would cost $30,000, said pastor George Baybrook.
Insurance will pay only $1.1 million. Any costs beyond that would be a massive burden for the congregation of about 100 members.
"Congregational" in the church name means that the each church is independent, and the congregation will decide what to do. Services will be held at 9:30 a.m. tomorrow in the church Fellowship Hall, and a business meeting of the congregation will follow.
Baybrook was just beginning to learn which foundations might grant money to rebuild the church.
People can contact the church at 889-6703, and a new Web site, www.kalahikiolacongregationalchurch.com, will be up soon, Baybrook said.