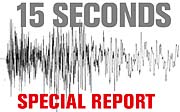 Kealakekua Bay closed until cliffs found safe
Geologists will check the rock slide site after forecast rains pass
West Hawaii's Kealakekua Bay will remain closed until next week, when geologists will recheck the stability of the steep cliffs that spilled rocks and boulders after the Oct. 15 earthquakes.
"A significant slide destabilized the slope, removed vegetation and a variety of rock and dirt," said Peter Young, director of the state Department of Land and Natural Resources. "This is not a safe place."
Forecasted heavy rains this weekend mean the possibility of more rockslides, and as a precaution the state is restricting access to Kaawaloa Flats at the base of the cliffs, Young said.
The Coast Guard closed the bay to swimmers, divers, snorkelers, kayakers and boaters on Tuesday and does not expect to lift those restrictions until next week, said Petty Officer Luke Clayton.
"We want everyone to be safe there," he said.
The good news about the popular ocean recreational spot is that most of the rocks that fell from the cliff after the earthquakes did not go into the bay but piled up on shore, said Dan Polhemus, administrator of the DLNR's Aquatic Resources.
The dust cloud that bloomed over the bay immediately after the quakes and landslides seems to have mostly blown away on the wind, Polhemus said.
The DLNR's Big Island aquatic biologist said the water quality is relatively good and that coral does not seem any more disturbed than it would be from winter surf.