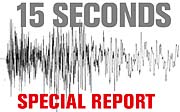 Damage shuts span between Kipahulu and Haleakala
WAILUKU » Maui County officials have shut down a one-lane bridge that leads to Haleakala National Park at Kipahulu, a destination frequented by hundreds of thousands of visitors annually.
County executive assistant David De Leon said Federal Emergency Management Agency officials had recommended yesterday not having any motor vehicle traffic on Paihi Bridge.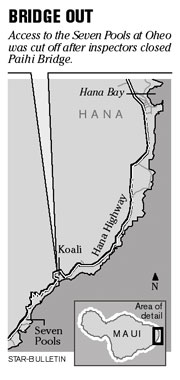 The bridge is on Hana Highway about 7 miles south of Hana town and a half-mile past the 45-mile marker. It was unclear whether the bridge, which the county had been planning to replace soon, was damaged by Sunday's earthquakes or Monday's torrential rains, county officials said.
An estimated 2,000 visitors a day travel from Hana town to Kipahulu, commonly known as the "Seven Pools," where streams flow into the pools of Oheo before emptying into the ocean.
County officials, who were assessing damage from the earthquakes and the rains, closed the bridge on Wednesday after noticing cracks to the foundation, and asked FEMA for an evaluation. De Leon said county public works officials are planning to put in a temporary bridge during construction to replace Paihi Bridge.
He said he didn't know the timetable for the work, and county officials were still working with the community to develop transportation plans, such as how children from Kipahulu will be able to attend public schools in Hana.
De Leon said the county is also warning people not to try to use the alternative route from the south on Piilani Highway to visit the park at Kipahulu. He said officials are inspecting several bridges south of Kipahulu.
Officials shut traffic from the south earlier this week after noticing cracks at Manawainui Bridge in Kaupo. Paihi Bridge, built in 1911, is one of 25 bridges owned by the county from Hana town to Keokea in Kula.
County spokeswoman Ellen Pelissero said public works officials plan to install concrete barriers blocking the entrances to Paihi Bridge because people have been removing warning signs and crossing it.