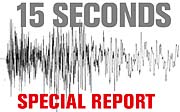 Quake hardly shook up visitor arrivals
Domestic arrivals remain on a pace ahead of '05 numbers
The earthquakes that rocked the islands Sunday appear to have sent barely a ripple through Hawaii's visitor industry so far. State tallies indicate that domestic arrivals from last Saturday through Wednesday are actually running ahead of the same period in 2005.
Travel from the mainland United States to the Hawaiian Islands returned to normal just one day after last Sunday's earthquakes, and remains on pace for another excellent year, state Tourism Liaison Marsha Wienert said.
"The numbers are very good, and are a positive indication that people are sticking to their plans to visit our islands," Wienert said.
International arrivals between last Saturday and Wednesday were 4.1 percent below the same period last year, but that is in keeping with an ongoing slowdown in the Japanese visitor market.
Hawaii has welcomed 320,364 domestic arrivals so far this month, up about 1 percent over 2005, according to preliminary data from the state Department of Business, Economic Development and Tourism.
---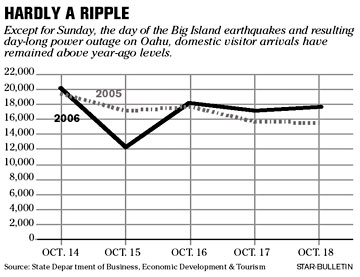 ---
The Hawaii Visitors and Convention Bureau has sent out two press releases and video footage that has run on TV stations across 18 markets, including Los Angeles, San Francisco, Las Vegas and Phoenix, said David McNeil, co-owner of McNeil Wilson Communications, the public relations firm that represents the bureau.
"We have also been handling media inquiries at a pretty furious pace -- probably about 60 or more since Sunday," he said. "This includes USA Today, L.A. Times, CNN and others. We have also been proactively in touch with the 'Today Show,' 'Good Morning America' and TV travel hosts such as Peter Greenberg, Emily Kaufman and Laura McKenzie."
Judging from the drop in caller volume to HVCB's call center, potential visitors to Hawaii are apparently getting the word that the destination is back on track, said Barbara Okamoto, HVCB's vice president of customer relationship management.
"On Monday we had about 100 additional calls, but that number had dropped quite a bit by Tuesday already," Okamoto said. "We had 21 earthquake-related calls on Tuesday and only six on Thursday."
While Hawaii tourism officials are still monitoring the market, there appears to have been little impact to Hawaii's visitors from the quakes, said John Monahan, HVCB's president and chief executive officer.
Only about 100 of Hawaii's 72,000 visitor accommodation units are out of commission, Monahan said yesterday.
Big Island hotels are all open and Kona is overflowing with visitors coming for the Ironman World Championship this weekend, Monahan said.