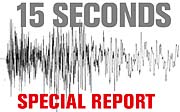 Big Isle births Sunday got extra push into the world
Lying on a hospital bed, Lacey Francisco was expecting her first child when she heard a rumbling sound between contractions.
Suddenly, she and boyfriend Sidney Shortt found themselves in the dark, dodging roof tiles and debris falling from the ceiling when the magnitude-6.7 earthquake hit at 7:07 a.m., followed by a smaller one a few minutes later.
"The whole hospital, my whole room started shaking, all the machines started beeping," recalled Francisco, a 26-year-old waitress at the Mauna Lani hotel and now mother of Kiani Spencer, a healthy baby girl born at 2:48 p.m. and nicknamed "Quakey" by hospital staff.
"I was praying for my life and my baby's life," said Francisco, who checked out of the hospital on Wednesday and is resting at home. "My pressure went up. I was shaking."
Her baby was one of four delivered that day at North Hawaii Community Hospital in Waimea, double the daily average, said Sharon Williams, executive leader for the hospital's family birth unit.
The hospital, which flooded in some areas and lost electricity for a few hours, stayed open all day running on a generator. The first baby arrived three hours after the first quake, and the last two, twins, at 4:30 p.m.
"I think it was because of the earthquake. It really shook them up and got them going. It has continued to be busy since Sunday," Williams said, adding that all newborns seem to be fine. "I think that when anybody is frightened or gets their adrenaline going, it affects their hormones, but we don't really know what triggers labor."
The mother of the twins, Nina Puckett, a 40-year-old full-time student, was walking near her Waimea home before a morning hospital appointment when the shaking started.
"These huge eucalyptus trees were swaying, and I am barely walking, because with twins you are huge," said Puckett. "Dogs were running around off their chains because they were broken loose. ... I was really concerned, thought it was a bomb."
Puckett, who was scheduled for a Caesarean section at 9:30 a.m., said her doctor called her to cancel the surgery, saying the hospital had been damaged. But soon after, she started feeling contractions and knew it was time.
"I kind of knew it was going to happen that day no matter what," said Puckett, who gave birth to a girl and a boy under flickering lights. "Everybody's been saying they are going to rock our world."
At Kona Community Hospital, three babies were born on Sunday, said spokeswoman Emily Mendez-Bryant. Unlike other patients, the mothers were not evacuated from the hospital but moved from the damaged birth unit to intensive care.
Hilo Medical Center, the only other Big Island hospital that has a birth unit, had four babies born Sunday, said spokeswoman Elena Cabatu.
While it is unclear whether fear and excitement from Sunday's quake gave expecting mothers an extra push, it is a phenomenon that has been witnessed after large quakes in California and in the Middle East, said Kenneth Ward, chairman of the John A. Burns School of Medicine's department of obstetrics, gynecology and women's health.
"We don't know why," Ward said of the increased rate of delivery during earthquakes. "We do know that there are lots of factors involved in delivery, but we don't really understand the causes or the timing of why anybody goes into labor."
There also are cultural factors involved.
For example, Ward said few pregnancies end during the Super Bowl, but as soon as the game is over, deliveries become more frequent. And short-term stress, which pregnant women may have experienced during the shaking, is known to actually stop labor, Ward said.
However, a power blackout after an earthquake could make expectant mothers more aware of their contractions, he said.
"They are not able to do things they were able to do, like get supplies at Costco for the new baby," he said. "They don't have the distractions, and their focus is on the fact of, 'Oh my God, I'm contracting a lot.'"