| | |
| --- | --- |
| | Newswatch |
---
Repaired Haleiwa bridge to reopen
Anahulu Bridge in Haleiwa is scheduled to reopen about 2 p.m. today, after undergoing $3 million in renovation and repairs, city officials said yesterday.
The 85-year-old landmark bridge has been closed since Monday for the repairs that were expected to take up to 10 days, according to a city press release. Construction crews have been working on the bridge for about 17 months, city officials said. It spans Anahulu Stream and is also known as Rainbow Bridge.
Seismologists name quake 'Kiholo Bay'
Sunday's 6.7-magnitude earthquake will be known as the "Kiholo Bay" earthquake.
University of Hawaii seismologist Cecily Wolfe said she and her colleagues at the Hawaiian Volcano Observatory agreed on that name.
It was a surprise to them when people initially attached "Puako" to the earthquake, because that was too far from the epicenter, said Jim Kauahikaua, scientist-in-charge of the observatory. "At HVO, we decided Kiholo Bay is a more appropriate geographic name," he said. "The earthquake epicenter is right outside Kiholo Bay."
HECO to hold public briefing on Monday
Hawaiian Electric Co. will hold a public briefing on the Oct. 15 power failures on Oahu, Maui and the Big Island in the State Capitol Auditorium Monday.
The briefing is scheduled for 2 to 4:30 p.m. There will be a presentation followed by a question and comment period. Officials from HECO and its subsidiaries Hawaii Electric Light Co. and Maui Electric Co. will be present.
All Big Island schools will be open Monday
The last two Big Island schools to remain closed after the Oct. 15 earthquakes are expected to reopen Monday.
"All the necessary repairs at Honokaa Elementary are complete," Art Souza, state Department of Education's West Hawaii district superintendent, said yesterday. Nine classrooms were stabilized Thursday and yesterday with supports on their outside walls that will make them sound, Souza said.
At Waikoloa Elementary this weekend, contractors are reattaching light fixtures and stabilizing the supports for dropped ceilings. Even if the work isn't completed this weekend, the school hopes to reopen by putting some classes in community facilities, Souza said.
"The bottom line is safety. We have to make it safe for the kids" -- many of whom are still scared, Waikoloa Principal Kris Kosa-Correia said this week.
Meteor shower visible if skies clear up
If the clouds clear, Hawaii residents will be able to see a meteor shower over the next several nights.
Mike Shanahan, the Bishop Museum education director and former planetarium manager, said because there is no moon, this weekend is a prime time to see the Orionid meteor shower.
The Orionid is so named because it appears near the constellation Orion. The annual shower occurs when the earth passes through the debris left behind by Halley's Comet.
"As a general rule of thumb of meteor showers, they're always better after midnight," Shanahan said.
The earth passed closest to the debris field last night, Shanahan said. But the shower will continue for the next several nights.
However, the National Weather Service forecast calls for possible thundershowers through Sunday and partly cloudy skies with isolated showers through Wednesday.
Greenpeace ship due to dock at Honolulu
Greenpeace expects to dock its ship Esperanza to Honolulu next week as part of its year-long Defending Our Oceans cruise, the environmental group said in a news release.
Lt. Gov. James R. "Duke" Aiona is expected to greet the ship when it arrives at 2 p.m. Monday at Pier 9, Aloha Tower Marketplace, the release said.
Greenpeace plans a press conference about its Defending Our Oceans campaign at 10 a.m. Tuesday and scheduled tours of the boat that afternoon and Wednesday.
| | |
| --- | --- |
| | Police, Fire, Courts |
---
WAIKIKI


Police look for men accused of robbing man of beer

Police are looking for two men wanted for robbing a man in Waikiki of a case of beer.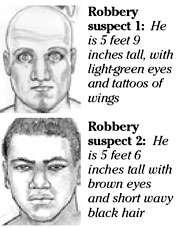 Police said one suspect began arguing with the victim, and a second suspect approached the man with a screwdriver and allegedly punched him in the chest.
The man fell to the ground and hit his head, police said. They said both suspects fled on foot in an unknown direction.
One suspect is described as being in his 20s, 5 feet 9 inches tall, 200 pounds, with light-green eyes and a tattoo of wings across his upper back.
The second suspect is described as in his 20s, 5 feet 6 inches tall, 200 pounds, with brown eyes and short, wavy black hair.
Anyone with information is asked to call CrimeStoppers at 955-8300 or *CRIME on a cell phone.
Driver arrested after gun found in DUI case
Police arrested a 26-year-old who allegedly had a gun in his car while driving drunk.
Police said the man was stopped for a traffic violation along Maunakea Street in downtown Honolulu at about 3:30 a.m. Wednesday.
When the officer asked the man to take a field sobriety test, he noticed a silver handgun under the driver seat, police said.
The man was arrested for investigation of firearm violations and drunken driving.
HONOLULU


Wal-Mart shopper held with stolen credit card

Police arrested a 29-year-old man who allegedly used a stolen credit card and a stolen passport to try and buy an iPod at Wal-Mart.

Police said the man walked into the Keeaumoku Street Wal-Mart at about 4:45 p.m. Wednesday and tried to buy the digital music player with a credit card.

When the cashier asked for an ID, the man gave her a passport that matched the credit card but was not his, police said.

The man was held until police arrived. Officers found him with another credit card that didn't belong to him, police said. He was arrested for investigation of fraudulent use of a credit card.
65-year-old woman found dead in ocean
The body of a 65-year-old woman was found floating in the ocean near the Ewa end of Kakaako Waterfront Park at about 6:08 p.m. yesterday.
Police said there were no signs of foul play. An autopsy will determine the cause of death.
Palolo women arrested in robbery and assault
Police arrested three Palolo women who allegedly went into another woman's home and assaulted her.
Police said the women, 43, 45, and 75, went into the home at 2639 Huapala St. at about 3:15 p.m. and assaulted a 22-year-old woman.
Police were called and the women were arrested for investigation of first-degree burglary.
NEIGHBOR ISLANDS


Hilo house fire traced to burning cigarette

A cigarette smoldering in an ashtray was the cause of a fire that damaged a two-story house in Hilo in the Waiakauka area yesterday afternoon.

Smoke and flames could be seen lapping out of a second-story window when firefighters arrived, fire officials said.

They said no one was injured in the fire but seven dogs were inside the house at the time.

Twenty-two firefighters responded to the 3:22 p.m. alarm at 51 Hokupaa St. and the blaze was brought under control in 11 minutes.
Coast Guard rescue 6 from overdue boat
The Coast Guard and Maui Fire Department located an overdue vessel with six people on board last night off the coast of Molokai.
The 20-foot Boston Whaler from Molokai reportedly ran out of fuel, a Coast Guard spokesman said. A Coast Guard motor lifeboat towed the boat in at 8 p.m. yesterday.
All passengers were in good condition.
The boat was reported to have been three miles off Haupu Bay on the north shore of Molokai.
The wife of a passenger called the Coast Guard at 6 p.m. yesterday.
The Coast Guard launched a 47-foot lifeboat and a HH-65 Dolphin helicopter to look for the vessel. The Maui Fire Department also used its helicopter in the search.
CENTRAL OAHU


Police arrest man in car reported stolen

Police arrested a 24-year-old man who was allegedly driving a stolen car when he stopped to check out another car.

Police said an officer noticed a blue Saturn pull over to the side of Kamehameha Highway in Wahiawa at about 7:05 a.m. Wednesday.

Two men got out of the Saturn and were checking out a stalled vehicle that had been left for two days, police said.

The officer checked the license plate of the Saturn and learned that it had been reported stolen.

He then arrested the alleged driver of the Saturn for investigation of auto theft and driving without a license.
Man, 44, charged in teens' sex assaults
Police charged a 44-year-old Nanakuli man with sexually assaulting two juveniles over a four-month period.
Police said Gary Kaleimamahu sexually assaulted a 16-year-old boy and a 14-year-old girl between June 1 and Oct. 12.
Kaleimamahu was charged with two counts of second-degree sexual assault, three counts of third-degree sexual assault, and two counts of fourth-degree sexual assault.
His bail was set at $100,000.
Man, 41, accused of punching wife
Police arrested a 41-year-old man who allegedly punched his wife in the face and then threatened her with a kitchen knife.
Police said the husband and his 41-year-old wife were arguing at about 1:30 a.m. yesterday when the husband threw the punch and grabbed the knife.
Officers arrested the husband for investigation of first-degree terroristic threatening.