| | |
| --- | --- |
| | Wood Craft |
---
Olds says earthquake news was carried in Afghanistan
B
illy Olds
e-mails from Afghanistan that Hawaii's earthquake received much coverage over there via CNN International. But he said he is disappointed to mostly get what he calls "bad stuff" from the media -- "nothing about the whomping we gave Fresno. If you see June, send my aloha and congratulations for a job well done." Billy, of course, is referring to UH football coach
June Jones
and Hawaii's 68-37 wipeout of Fresno State last Saturday. We'll discuss that media "bad stuff" claim he makes about the war coverage and other things on his return. Billy, a retired Army colonel, is an executive professional adviser for the Afghan Ministry of Interior and is helping to develop a national police force. He was one of former Honolulu Police Chief
Dan Liu's
finest in the early '60s ...
Illinois Sen.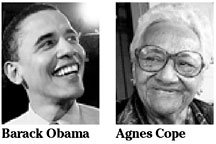 Barack Obama, who was born and raised in Hawaii, is getting big-time exposure. He is pictured on the cover of the Oct. 23 issue of Time magazine and the cover of the September/October issue of Men's Vogue. Both magazines look at the former Punahou basketball player's possibilities of becoming the first black U.S. president. Wednesday, the senator was on Oprah Winfrey's show. She got into the presidential thing with him, too ... A fundraiser for the Waianae Coast Comprehensive Health Center is scheduled tonight at the Marriott Ihilani, at which Sen. Daniel and Millie Akaka and Agnes Cope will be honored. Melveen Leed is emcee and event chair Blake Nuibe has Amy Hanaiali'i Gilliom, the Ualei Trio and Nyle Hallman to entertain. Chairs are Anthony Guerrero Jr. and Christine Camp Friedman ...
Hunter Thompson fans should see this film
formeR Washington Redskin John Wilbur found his way to the newsroom this week to plug the Hawaii film festival movie about his late "gonzo" journalist friend Hunter Thompson. "Buy the Ticket Take the Ride" plays tomorrow at Dole, 7 p.m. I'm not exactly sure what a "gonzo" journalist is, however, I have worked with many bozos ... I'm on vacation and will return to work Oct. 31. I'll celebrate my 75th birthday Oct. 26. Whodathot? What's that old line? Oh yeah: If I knew I was gonna live (and work full time) so long, I would have taken better care of my body. Next column Nov. 1. See ya ...
Ben Wood
, who sold the Star-Bulletin in the streets of downtown Honolulu during World War II, writes of people, places and things in our Hawaii. E-mail him at
bwood@starbulletin.com